We are accepting nominations for our Executive Board positions: President, Vice-President and Secretary/Treasurer. The deadline for accepting nominations is April 28, 2017. Read more »

As of July 1, 2017, Adam Cooper, our current Director of Conferences, is stepping aside to pursue other opportunities within the BCA. Responsibilities include researching and recommending a meeting site, program direction, meeting schedule, speakers, workshops, social events, and on-site coordination. Learn more »

BIOCOMM 2017 Meeting Information
Register now and pack your camera gear and note pads for this exciting BIOCOMM 2017 meeting in Portland. We're pairing a two-day, on-the-road photography workshop in scenic Oregon with three days of presentations from experts in visual communications to expand your skills and creativity. Read more »

BIOCOMM 2016 Meeting Highlights
See what you missed or relive BIOCOMM 2016 in New Orleans. Meeting highlights and slideshow are now online! Download a high resolution PDF of the group photo.

2016 Louis Schmidt Laureate
The Louis Schmidt Committee of the BCA is pleased to announce that Charles A. Hedgcock, or Chip as he is known to many, was the 2016 Louis Schmidt Laureate. Chip was presented with the Schmidt Award during BIOCOMM 2016 in New Orleans. Read more »

The Spring 2017 issue of the BCA News is here. Read about plans for BIOCOMM 2017, new EFFE award recipients, gallery openings by two BCA members and more.

The Journal of Biocommunication
Issue 41-1 of The Journal of Biocommunication is now online and includes four academic articles, two stunning professional showcases and the amazing imagery of the Salon winners from the 2016 AMI annual meeting.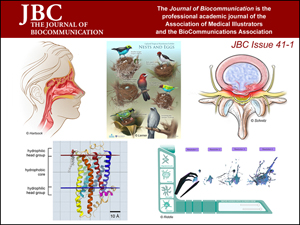 The BCA has a YouTube channel featuring educational videos on photographic techniques.
Metadata – Protecting Copyright in Digital Images
Tonya Hines, CMI
Metadata provides a way to identify the copyright of digital images by embedding ownership and contact information directly into digital files. Metadata facilitates respect for the rights of creators and helps protect your photos from accidental infringement and potential orphaning. Read more »

Tips & Techniques is a resource tool for sharing expertise and professional experience to professional photographers and visual communicators in the life sciences.
The BioCommunications Association is an international association of photographers, videographers and graphic designers who create visual media for medicine and science.