Mark your calendars for BIOCOMM 2018
BIOCOMM 2018 will be June 19-22 at the Hotel Indigo in Savannah, Georgia. Plans are in the works for a series of presentations, demonstrations, keynote speakers and a one-day workshop on June 23.
Read more »


BIOCOMM 2017 Meeting Highlights
Highlights from BIOCOMM 2017 in Portland, Oregon are now online. Read about the pre-meeting photography workshop, meeting speakers, award winners, view the slideshow and more.
Read more »


BCA Announces Results of the 2017 Board Election
BCA formally announced the results of the 2017 Board election at the Business Meeting during BIOCOMM, in Portland, Oregon on June 23.
Read more »

BioImages 2017 Award Winners
Congratulations to Fabian de Kok‑Mercado from the Howard Hughes Medical Institute who won Best of Show for his interactive Virus Explorer at the BioImages Award Ceremony held Wednesday evening, June 21, 2017 in Portland, Oregon.
Judges for BioImages 2017 awarded 20 images with Citation of Merit, 7 images with the Award of Excellence and 8 images received special merit awards. An additional 66 images were selected to be on display in the salon at the annual BIOCOMM meeting.

2017 Louis Schmidt Laureate
The Louis Schmidt Committee of the BioCommunications Association is pleased to announce that the 2017 Louis Schmidt Laureate is Richard A. McNeely. The Schmidt Award will be presented to Rick during BIOCOMM 2017 in Portland, Oregon. Read more »

Two new videos from BIOCOMM 2017 have been added to our YouTube channel featuring presentations from Jamie Hayden and Bob Turner.
Tips & Techniques is a resource tool for sharing expertise and professional experience to professional photographers and visual communicators in the life sciences.
The Summer 2017 issue of the BCA News is here. Learn about the new BCA President, reflections and inspiration from BIOCOMM, mirrorless cameras and who was Warren Sturgis?

The Journal of Biocommunication
Issue 41-1 of The Journal of Biocommunication is now online and includes four academic articles, two stunning professional showcases and the amazing imagery of the Salon winners from the 2016 AMI annual meeting.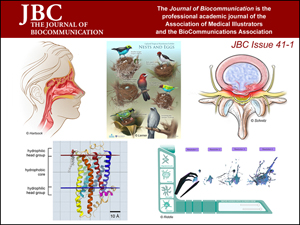 The BioCommunications Association is an international association of photographers, videographers and graphic designers who create visual media for medicine and science.