Anterior spinal artery infarction due to compression of an anomalous right vertebral artery
Lydia Gregg MA, CMI, FAMI
Johns Hopkins University School of Medicine
Ellicott City, Maryland, USA

The main illustration depicts the anomalous path of a right vertebral artery that originates from the descending thoracic aorta, crosses behind the esophagus, provides the only blood supply to the upper cervical spinal cord at level C2, and ends in the right posterior inferior cerebellar artery (PICA). The inset on the right side shows an infarction at C3-C5 spinal cord levels within the anterior horns of the spinal cord. The inset on the left shows the likely cause of the infarction, a food bolus compressed by the aortic arch and, in turn, compressing the anomalous vertebral artery against the vertebral column.
Purpose
The anomalous pathway of the right vertebral artery was difficult to view on the available MRI data in relation to the aortic arch and the esophagus. The illustration clarifies these relationships in this full-page journal article illustration for Interventional Neuroradiologists.
Equipment
Illustration produced in Adobe Photoshop using an iMac computer.
"This is a beautifully rendered illustration. Very effective "ghosting" clarifies the complex relationship between the aortic arch, esophagus, vertebral column, and the anomalous origin of the Right Vertebral Artery. The insets clearly show how swallowing a large bolus of food could result in an anterior horn infarct of the cervical spinal cord. This is exactly what a good medical illustration should do – clarify complex information that would otherwise be difficult to understand."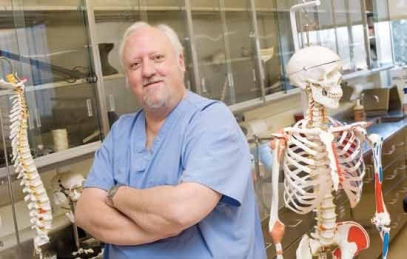 - James A. Perkins MFA, CMI, FAMI
Board Certified Medical Illustrator
Fellow, Association of Medical Illustrators
Distinguished Professor and Graduate Director, Medical Illustration
Head of the Department of Medical Sciences, Health & Management
College of Health Sciences & Technology
Rochester Institute of Technology