BIOCOMM 2012
College of the Atlantic
Bar Harbor, Maine
June 19 – 22, 2012

Bar Harbor, Maine
June 19 – 22, 2012
Meeting Highlights
BIOCOMM 2012 – A Journey in Inspiration – was another successful and inspiring event as a combined meeting for BCA and ABCD (Association of Biomedical Communications Directors) members who met in Bar Harbor, Maine! Thank you to all who contributed their time and efforts to make this meeting a success!
"Bass Harbor Light" by Seth Dixon won an Award of Excellence in the Fine Art category of the 2009 BioImages Salon.
The meeting was held on the grounds of the College of the Atlantic in Bar Harbor, Maine. It began with the Opening Reception, overlooking the bay, followed by the BioImages Awards Ceremony.
The Maria Ikenberg Lindberg Keynote speaker, Nancy Kedersha, PhD activated our creative juices with her beautiful images and talk "Views of Inner Space".
Topics from Norm Barker's talk on "Halsted: Exploring our Surgical Heritage" to Jamie Hayden's talk about "Scientific Image Manipulation: Exposing the Photoshop Generation" covered the spectrum of interests. Gemma Leyland and Nathan Edwards traveled from Cardiff, Wales to present topics on dermatology photography and intra-oral photography. Adam Cooper, Dave Mauriello, Christye Sisson, Emily Blair and Doug Hanes gave us great ideas on what they are doing in their media centers.
Frank Shelley from Calumet Photographic, Jesse Knowles from 3dMD, Bill Chambers from Nikon Metrology Inc, Bob DiNatale, Josh Clark of Global Moxie and Bill Fortney of Nikon kept us up to date with the latest information in imaging as well as inspired us to be creative.
Thanks to Michael Peres who was our team leader for our painting with light night. Hats off to Joe Kane, Adam Cooper and Jim Koepfler for their workshops, Infoshare and Show Us Your Stuff. Bob Turner and Nathan Pallace also presented via the Internet.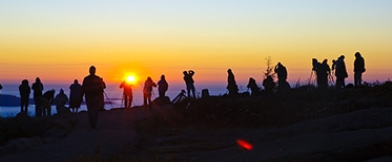 The Ann Shiras Pioneer Lecturer, John Paul Caponigro topped the week with his Turbo-charged talk " Illuminating Creativity".
The BCA and Nikon post meeting workshop with Bill Fortney was wonderful as always. We explored the Acadia National Park and the rest of Mt Desert Island both sunrise and sunset with critique sessions in between.