BIOCOMM 2013
Asilomar State Park on the
Monterey Peninsula, California
June 17-21, 2013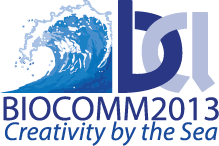 Asilomar State Park on the
Monterey Peninsula, California
June 17-21, 2013
Meeting Highlights
A big thank you to everyone who contributed their time and efforts to make BIOCOMM 2013: Creativity by the Sea at Asilomar Conference Grounds in Pacific Grove, California June 17-21 a tremendous success!
The conference offered three days of classroom and workshop sessions that brought together a variety of professionals in the fields of visual media in the life sciences to learn about new advancements and upcoming technologies in photography, microscopy, software, design, illustration, social media and mobile device solutions.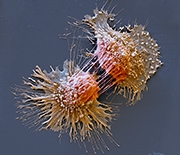 The meeting kicked off on Monday evening with a dinner followed by the 2013 BioImages Awards Ceremony, where Oliver Meckes and Nicole Ottawa's photomicrograph image "Cell division", was awarded Best of Show, the Charles Foster Memorial Citation, and the Award of Excellence.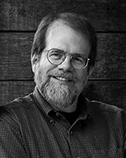 Our Maria Ikenberg Lindberg Keynote speaker, internationally respected photographer John Sexton, wowed attendees with an educational, informative and entertaining audio-visual presentation that shared images and insights from his 40-year photographic career.
On Tuesday morning, Alan Goldstein, a supervisor of medical photography at Grossman Burn Center, discussed several video lighting techniques used in the operating room. Albert Fung and Paul Kelly, surgical videographers/computer animators from the Department of Anesthesia and Pain Management at Toronto General Hospital illustrated how to blend surgical video and computer animation. Adam Cooper, chief medical photographer at North Shore LIJ Health System, shared how to manage a growing demand for photography.
Paul Crompton, head of service at University Hospital of Wales, described how photographs move from scientific documentation to the gallery wall. Cynthia Brodoway, director of medical photography at the Alfred I. DuPont Hospital for Children shared what they learned about the benefits of centralizing patient photography. Norman Barker, associate professor of Pathology & Art as Applied to Medicine at Johns Hopkins University School of Medicine shared the pros and cons of self-publishing versus working with large publishers, using his latest book project as an example.
Jim Fosse wrapped up Tuesday's sessions with a fun role-playing workshop that helped attendees learn how to improve their skills in handling the bully, office lothario, time waster, and all around jerk in the office place.
Also on Tuesday, attendees gathered together outside the Hearst Social Hall to take the annual group photo, snapped by Adam Cooper.
On Tuesday evening, John Sexton led a group of attendees on a photo walk through the Asilomar sand dunes. "In spite of 40 mile per hour winds, the group wanted to go out photographing," said Sexton. "The conditions were far from perfect for photography, but the participants were real troopers and seemed to have a good time. Anne and I had a wonderful few days of photographic sharing and camaraderie with the group."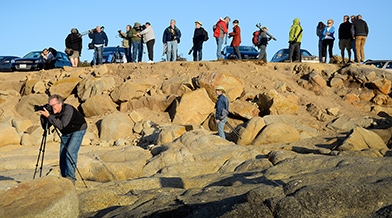 Wednesday's sessions were kicked off by a discussion by James E. Hayden, manager of the Imaging Core Facility at The Wistar Institute, about the dangers inherent in designing image-heavy experiments and the interpretation of results without taking important factors into account. Gabriel G. Unda, retired from the UC Davis Media Works, shared the photographic technique, focus stacking. Digital Publishing Evangelist Colin Fleming, of Adobe, illustrated the newest features and multiple benefits of Adobe Creative Cloud. Dannielle Edwards, manager of clinical photography at Austin Health, shared how to maintain enthusiasm and creativity in a budget driven world.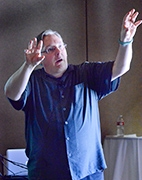 Stefan Mumaw, creative director at Callahan Creek, elaborated on the key characteristics of daily creative outputwith his Creative Boot Camp. Colin Fleming returned with a workshop on the Adobe Digital Publishing Suite, illustrating how to build rich, interactive tablet apps. Dave Breslauer, application support manager with MerlinOne, explained why metadata matters and how it can be used in a photographic workflow. Robert Turner, retired from The Scripps Research Institute, gave an introduction to digiscoping. The day ended after dinner with the Painting of Light of Merrill Hall with about 50 people in attendance with flashlights and light sources of all kinds.
Charles Hedcock kicked off Thursday's sessions with a presentation on photography field work for the Madrean Archipelago Biodiversity Assessment (MABA) project. He went over what gear he could reasonably carry and his photography techniques but he did not elaborate on the dangers of field work along the borders of Mexico. Ted Kinsman, president of Kinsman Physics Production, gave an introduction to plant time-lapse photography. James E. Hayden returned to share how micrograph images can be used for art and science. Pam Kleinsasser shared how to get more out of customer service.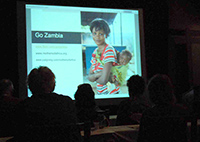 Paul Crompton returned to talk about his participation in the healthcare collaboration, Go Zambia. James Koepfler, a medical photographer with Boston Children's Hospital, shared his techniques for on-the-go lighting solutions. Jared Schwartz, chief medical officer for Leica Biosystems shared how ePathology can improve access and quality of healthcare. Gale Spring, associate professor of scientific photography at Royal Melbourne Institute of Technology, explored how well forensic imaging and new technologies are working together.
Tom Kryton, Jim Fosse, James Hayden, Adam Cooper, Ken Meats, and Bob Turner illustrated some great techniques during InfoShare and Show Your Stuff, which was also offered for the first time this year to member non-registrants via streaming video. Recordings of these sessions can be viewed here.
The Ann Shiras Pioneer Lecturer, Ted Kinsman, ended the presentations for the day with a bang with a fascinating report on his attempts to record the beauty of nature with high-speed photography, radiography, and time-lapse cinematography.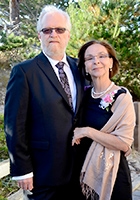 The Honors banquet was held on Friday evening. Susanne Loomis presented nine honors to members and passed the gavel to the incoming president, Joe Kane. Keith Bullis, Adam Cooper, Connie Johansen, Jim Koepfler, Thomas Kryton, and Bob Turner received Acknowledgement of Service to the BCA for their work on the meeting. Jeb Zirato received the President's Award for his work on the Board of Governors and Chair of the Certification Committee. Karen Hensley received the Ralph Creer Award for her distinguished services to the BCA. The highest award and honor bestowed by the BCA, the Schmidt Laureate Award, was given to John Hendrix. Check the upcoming newsletter for a full story on the honors bestowed. Photos from the Honors banquet can be viewed here.
Friday morning, attendees participated in a Roundtable Discussion on the future of BCA and opened the floor for creative and constructive brainstorming. Several ideas were shared including possible restructure of the Board of Governors and BCA committees, enhancing the BCA website, finding content for the website and reaching out to other photographic communities.
A group of 20 attendees took a one-hour, behind-the-scenes tour of the Monterey Bay Aquarium jellyfish exhibit.
Thank you to Bill Fortney for again leading the Nikon Post-Meeting Photography Workshop, which took participants on a photographic odyssey through the lush Big Basin Redwoods in the Saratoga area. Photographers also ventured into Santa Cruz and the Hakone Gardens.
We hope you will join us next year for BIOCOMM 2014 in Rochester, Minnesota, July 22-25!