BIOCOMM 2014

Rochester, MN
July 23 – 25, 2014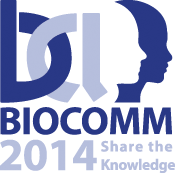 Rochester, MN
July 23 – 25, 2014
Meeting Highlights
A big thank you to everyone who contributed his or her time and effort to make BIOCOMM 2014: Share the Knowledge a success!
The conference offered three days of classroom and workshop sessions that brought together a variety of professionals in the fields of visual media in the life sciences to learn photomicrography, animal photography, video editing, dermatological photography, medical photography, and more.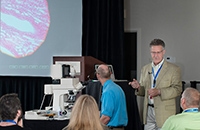 The meeting kicked off on Wednesday morning with a workshop by Michael Peres, RBP, FBCA, and Associate Chair of the School of Photographic Arts & Sciences at the Rochester Institute of Technology. Participants learned how to optimize digital files for publication and establish proper illumination by adjusting optical components on a digital microscope. Jim Fosse, RBP, FBCA, Visual Information Specialist at the USDA National Animal Disease Center gave an introduction to TechSmith Camtasia Studio. Tim Seelinger, Senior Video Editor in Media Support Services at Mayo Clinic outlined how they made the decision to make the move to Adobe Premiere. Mark McGlinch, Digital Media Producer for the Mayo Clinic, share video production tips to make better quality videos. Nick Mezacapa, Rector at the Calvary Episcopal Church in Rochester, MN, gave an entertaining and motivational presentation that encouraged participants to find daily ways to replenish their energy reserve tank. "If you live by the short list of what really matters to you, the little things that bug you don't matter as much."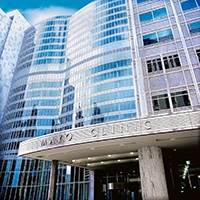 A brief tour of the Mayo Clinic began with a visit to the Mayo Simulation Center and ended with the state of the art proton beam treatment facility in the Rochester Jacobson Building, currently under construction.
Michael Peres began Thursday morning with the Maria Ikenberg Lindberg Keynote Presentation, "It is not the destination but rather the journey." where Michael shared his guiding principles.
Mayo Clinic medical photographer Nathan Pallace discussed his December 2013 PDN Magazine column "What's Your Niche". Nathan said, "One-third of my job is photography, one-third is customer service, and one-third is everything else."
Jesse Knowles, Regional Sales Director for 3dMD, demonstrated how the newly re-engineered 60 fps systems have clinical research applications in hospitals and universities. Dr. Lawrence Stack, Associate Professor of Emergency Medicine and Pediatrics at Vanderbilt University, outlined the curriculum for the medical photography course they offer to nursing students and residents.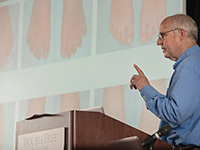 Paul Crompton, Director of the Media Resources Centre University Hospital of Wales, discussed their standardized approaches to dermatology photography and explored some of the opportunities to go beyond standardization to develop more creative approaches to photography and lighting.
More than 35 people joined the live webcast of the Infoshare Your Stuff session. This year's presentations included "Creative Use of Space" and "Folio Demonstration" by James Koepfler, FBCA, "Principles of Bird Photography" by Lynn P. Jorgensen, "Cross-Polarization in Medical Photography" by Katherine Hanlon, "Pro vs. Prosumer DSLRs" by Bob Turner, RBP, FBPA, "Biomedical Photography & iBooks for Veterinary Medicine" by Christopher B. Herron, "Environmental Portraits = Medical Photography" by Adam Cooper, RBP, FBCA, "Go Zambia: An Update" and "Show me where? An App" by Paul Crompton, FBCA.
Attendees gathered for the group photo taken in front of the Mayo Clinic Gonda Building, as they surrounded bronze sculptures of founders Drs. Charlie and Will Mayo. Then attendees participated in the BCA Business Meeting and Town Hall, where several ideas were shared about how to proceed with the future of BCA.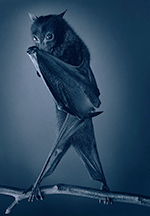 On Friday morning, London based photographer, artist and director Tim Flach led a photography workshop at Paws and Claws Humane Society where he shared techniques for photographing animals. His photographs of two of the shelter's dogs will be used by the organization to promote animal adoptions. Attendees returned to the meeting site to hear Tim talk on "How to See in Color", in which he used iconic images to illustrate the importance of contrast points. Tim ended the day with the Ann Shiras Pioneer Lecture, "Who's upside down, us, or the bats?" His lecture discussed the key themes of his work, reflecting on the way in which we shape animals and their meaning through images.
The Honors Banquet was held on Friday evening. Joe Kane, President of the BCA presented awards for Acknowledgement of Service and Paul Crompton handed out the awards for BioImages 2014. There were 105 entries this year, 65 of which were selected for the salon in 14 different categories.
We hope you will join us next year for our 85th Anniversary – BIOCOMM 2015 in Santa Fe, New Mexico on June 22 – 26!