BIOCOMM 2016
BIOCOMM 2016 – Where Professionals Gather
New Orleans, LA
June 20-24, 2016
Meeting Highlights
BIOCOMM 2016 – Where Professionals Gather
New Orleans, LA
June 20-24, 2016
A big thank you to everyone who contributed their time and effort to make BIOCOMM 2016, BCA's 86th Annual Meeting in New Orleans, one of the best meetings in recent years!
The meeting offered four days of presentations and workshop sessions that brought together a variety of professionals in the fields of visual media in the life sciences to learn techniques for photographing specimens and artifacts, 3D applications and printing, Lightroom post processing, DSLR video for still photographers, digital story-telling, IVF photomicrography, creating on-line educational courses, graphic design principles for mobile devices, and much more.
BioImages and Opening Reception
The meeting kicked off on Monday evening with the BioImages 2016 Opening & Awards Ceremony. BioImages is the BCA's annual visual media competition that showcases the finest still, graphics and motion media work in the life sciences and medicine. There were 199 entries this year from 8 countries. A total of 27 awards were given and 97 entries were selected for the salon.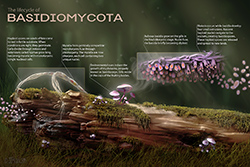 This year's Best of Show was "Lifecycle of Basidiomycota (Mycena haematopus)" by Jonathan Bowen, MS of The University of Illinois at Chicago, Chicago, IL. It also received the Award of Excellence in the Graphics Media: Natural Science Illustration category and the Canadian Founders Natural Science Award.
This year's BioImages judges were Paul Crompton, FBCA, Charles "Chip" Hedgcock, RBP, FBCA, Kathleen Wagner, MFA, CMI, and Will Willner, RBP, FBPA. See the bios for the judges.
Keynote Speakers
BIOCOMM highlighted 3 keynote speakers, Al Bello, Getty Images, was the Maria Ikenberg Lindberg Keynote; Matt Kloskowski, Lightroom expert and workshop presenter; and Louis Schwartzberg, was the Anne Shiras Pioneer Lecturer. All amazing experts in their field who shared their experiences, advice and techniques to the attendees.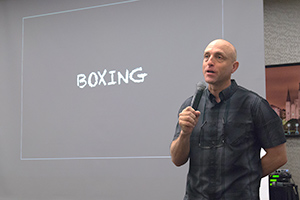 Al Bello, one of the biggest names in sports photography readily shared what it takes to be in the right place and the decisive moment to click the shutter or in many cases to click multiple shutters remotely. He describes how every photographer needs to separate from the pack and push the limits of their visions to tell the story. His portrait work evokes emotion and tells a story about that words cannot describe. Al explains, a portrait is made by building a relationship with the subject.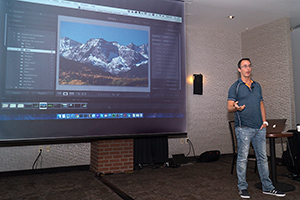 BIOCOMM's second keynote was Matt Kloskowski, a Sony Artisan of Imagery and author of over 20 books on post-processing in Lightroom and Photoshop. He covered everything from shooting tips to post-processing and cataloging images in Lightroom. He kindly shared his Lightroom sessions here on the BCA website. Check them out in the right sidebar of this page!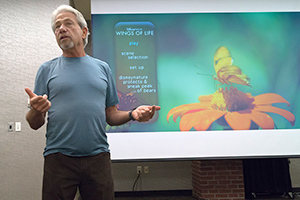 Louie Schwartzberg, BIOCOMM's 2016 Anne Siras Pioneer Lecturer, "Journey Through Portals of Time", was simply off the charts! A very open, passionate-about-his work individual, with all the qualities of a visionary leader. His filmmaking is not just about creating beautiful imagery – but also creating an understanding of the natural world. Louie says he was "taught by mother nature" and it's clearly evident in his work.
View Louie's TEDtalk, (over 30 million views to date) and be a part of Gratitude Community.
Scientific Meeting Program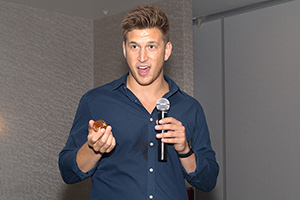 BIOCOMM invited experts in the filed of 3D printing. An afternoon was devoted to 3D acquisition, printing and many applications. Derek Mathers, moderator for the 3D Printing Mini Symposium, began by saying, "visual communications is the most important industry today and 3D acquisition and printing is the quiet revolution that is accelerating and improving manufacturing for leading brands in medical devices and consumer products. The afternoon was rounded out with many examples of how much 3D is making a huge impact in medicine and science.
In addition to the keynotes and workshops there were excellent presentations from Matthew Breitbart, photographing specimens and artifacts. Katherine Hanlon talked about how she was involved with 3D printing for tissue expansion and reconstructive surgery. Paul Cromptom gave an inspirational talk on digital story telling. Chip Hedgcock and Kathleen Velo describe their on location darkrooms, underwater photograms and lumen prints.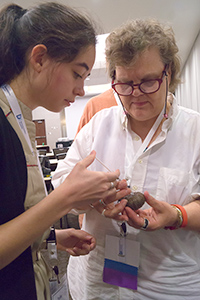 Jim Wetzel, PhD, also a fan of underwater life gave an IVF photomicrophy lecture and with the assistance of some sea urchins Jim gave a hands-on invitro fertilization workshop. Norm Barker gave an enlightened talk on pioneer photomicroscopist, Roman Vishniac, including what's not so well know about Vishniac. A group of Mayo Clinic videographers and photographers, Cliff Brewer, John Lemanski and David Coleman provided excellent information in their DSLR Workshop for still photographers. Keven Siegart furnished detailed information on how he produced the, "The Proper Pint" on location in Ireland. By using a DSLR camera Keven substantially lighten his gear and he discussed the post-production on a desktop system. Connie Johansen gave an overview of what to consider when developing content for websites and mobile devices.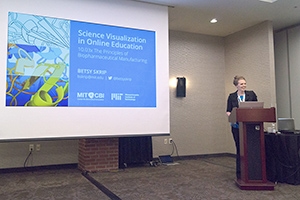 Betsy Skrip discussed her role in developing on-line courses at the MIT Center for Biomedical Innovation. She was extensively involved in the design, animation, illustrations and workflow. Amazingly, the on-line course was developed through a grant and is FREE globally. On it's first run 630 students completed the course. Betsy suggested checking out: https://www.edx.org.
Ken Meats was on hand to video tape the sessions. After the presentations are edited they will be uploaded to the BCA YouTube channel.
The annual business meeting covered the elections, reports from the Executive Committee and Directors and the annual financial report. Details of the business meeting and 2015 Income/Expense report can be found in the Members Only section.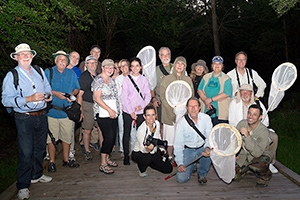 The attendees had the opportunity to visit the Audubon Insectarium in New Orleans and visit one of their remote educational facilities to capture and photograph a large variety of bugs at night.
Honors
Charles "Chip" Hedgcock, RBP, FBCA, James Koepfler, FBCA, Alan Goldstein, FBCA, Jeb Zirato, FBCA, Karen Hensley, FBCA and Nancy Hurtgen were honored at the annual Honor's Banquet.
Hats off to Adam Cooper, RBP, FBCA, Director of Conferences and Connie Johansen, Susanne Loomis, FBCA, James Koepfler, FBCA and Tom Kryton, for their extensive work on BIOCOMM 2016. A special thank you to Ken Meats for videotaping the sessions and Daniel Beim for providing photography services.
Websites referred to in presentations
Paul Crompton
http://www.cardiff.ac.uk/phoenix-project
Betsy Skrip, MIT Center for Biomedical Innovation
http://cbi.mit.edu
Kathleen Velo
https://www.tucsonmuseumofart.org/exhibitions/waterflow-under-the-colorado-river-photographs-by-kathleen-velo
Norm Barker
http://vishniac.icp.org/publication