BIOCOMM 2017

Portland, OR
June 20-24, 2017
Portland, OR
June 20-24, 2017
Meeting Highlights
BIOCOMM, BCA's 87th Annual Meeting, in Portland, Oregon was a gathering of 40 plus creative minds from around the world. In their quest to utilize visual techniques to help explain the complex world of medicine and science, they shared their expertise and experiences. It was a dynamic week with a location workshop and presentations in a collegial setting.
Two-Day Photo Workshop with Matt Kloskowski
On Monday, the meeting kicked off with a location photography workshop. Nineteen participants led by Matt Kloskowski headed along the scenic Columbia River Gorge Highway. The Columbia River Gorge is known as one to the 7 wonders of Oregon.
The first stop was Multnomah Falls. The next stop was Crown Point Overlook, Vista House to take in the grand views of the scenic highway. The group then looped around, stopping along the way to photograph more waterfalls in route to Trillium Lake. It wasn't about seeing these beautiful sites; it was experiencing the beauty, and at the final destination the group waited patiently for the clouds to pass over Mt. Hood and the sun to set to the sound of shutters clicking and capturing memories.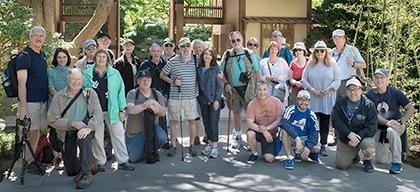 Tuesday had workshop participants headed to Portland's Japanese Gardens. The gardens are considered the most authentic Japanese garden outside of Japan and designed to be a haven of serenity, tranquility and multiple opportunities for photographers to capture the fantastic tree foliage, flowers, rocks and water that create exquisite patterns of natural light and form. This was a place photographers wish their shutters were silent. The workshop wrapped up with an afternoon of critiquing and experimenting with Lightroom techniques.
BioImages and Opening Reception
The official kick-off to BIOCOMM was the Opening Reception and BioImages Awards. The room hums with colleagues reconnecting, sharing experiences and discussing techniques. Lights down, a respectful silence, anticipation, and the awards begin.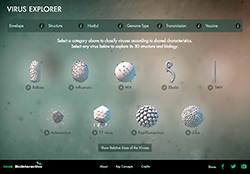 Best of Show was awarded to Fabian de Kok-Mercado and co-contributors for their biointeractive tutorial, Virus Explorer which incorporates 3D-models of viruses that students can click on to rotate and view from different angles. Students can learn about the criteria that scientists use to classify viruses, the characteristics of different viruses, and the global prevalence of viral infections.
Seven Awards of Excellence, 20 Citations of Merit, 8 Special Merit Awards and 66 images were selected for the salon.
Keynote Address by Jack Dykinga

Jack Dyking, the Maria Ikenberg Lindberg Keynote speaker, delivered a passionate presentation about his work and career that was fueled by his connection to people and nature. After a near death experience and a lung transplant procedure, Jack is back to capturing the spiritual nature of photography and sharing his experiences. His message was clear, "Connect your heart to your eye".
Scientific Meeting Program
Matt Kloskowski was then back to present on Lightroom techniques for landscape photographers and methods that apply to all fields of photography. Following lunch Rick Dewitt presented how photographing therapy dogs and their handlers at Memorial Sloan Kettering Cancer Center evolved into an annual calendar project. Plus, photographing dogs requires creative thinking on the fly and loads of patience.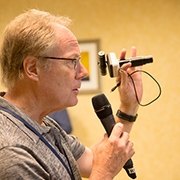 Day one wrapped up with a Show Your Stuff and InfoShare session moderated by Bob Turner. The Show Your Stuff speakers and topics included: Jamie Hayden, photomicrography; Bob Turner, natural science; Gabe Unda, digital imaging; and Adam Cooper, street photography. The InfoShare participants included Jim Wetzel, showed a digital microscope attachment; Sue Loomis and Bob Turner, shared camera bags and sling camera straps; Jamie Hayden, introduced a new photomicrography system; and Jim Koepfler and Ken Meats; explained BCA's video recording system.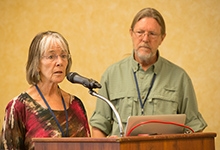 Day two was another diversified group of presentations ranging from the history illustrations in Patent Medicine to Infrared and Ultraviolet photography in Forensic Science. Norm Barker from John Hopkins University, School of Medicine, presented a historical overview of the role of early 19th century Patent Medicine. These were groups of secret formulas that were not patented,cured everything, and sold to the public through creative advertising. Kathleen Velo and Chip Hedgcock demonstrated how they have merged science and art to produce images that now are shown in galleries. Kathleen's underwater photographs along the Colorado River and Chip's lumen prints are stunning pieces of work. Jamie Hayden, Wistar Institute, discussed modern microscopy at 3D and higher, preparing the specimen, image quality and speed of acquisition. Jamie covered multiple factors that play a role in this highly evolving field of modern microscopy.
No breaks for day two! The group stayed in the conference room for the Business Luncheon and Town Hall Meeting. First, the Business Meeting was called to order, a vote to pass last year's minutes was approved, elections were approved and each Executive Committee member and the Directors of Conferences, Communications and Membership gave their reports. The Town Hall meeting portion was an open informal forum where members and non-members gave feedback and opinions on several topics. Just to mention a few, topics ranged from BIOCOMM 2018, the Journal of Communication's new design and filling the role of JBC editor for BCA, the JBC journal scanning project and search for a digital archivist, revival of BCA chapters, ideas for member recruitment and retention.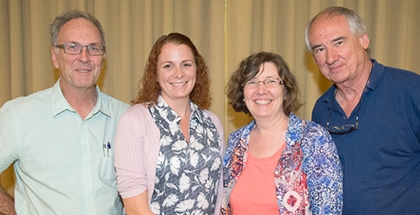 The remainder of the day followed with presenters from across the globe. John Yeats, Sydney, Australia, demonstrated how his clinical photography plays an important role in patient outcomes. Adolescents are not always eager to wear a brace to correct defects in the chest wall. The series of photographs that John takes illustrates to the patient how effective the results are. Danielle Edwards, Victoria, Australia, provided her pro-active approach to incorporating photos from mobile devices into the patient's medical records. Patient privacy and security is the priority for her team and working with clinic staff has aided this effort. Gale Spring, Melbourne, and Kathryn Denny of Brisbane Australia team up to talk about infrared and ultraviolet digital photography technologies that assist them in forensic investigations. All in all it was a full day of skill sets that can be incorporated in the work place.
The fast-paced scheduled continued on the final day of the meeting with Jim Wetzel opening with the small world of seahorses and urchins through correlative microscopy. Jim discussed success and failures in the never-ending pursuit of gathering visual data from these complex sea creatures. Ken Meats delves into examples of how historically spiritually was present in science and the visual arts but does that play out in the 21st century? Ken cites several examples of how the three are often at odds and recommends taking a look at James Elkins, On the Strange Place of Religion in Contemporary Art.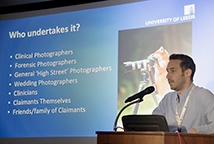 Next up was Rick Hatmaker, CHRONMIX Corporation, who discussed all the tools, needed to get the color right from download to output in the digital process. Tim Zoltie from the University of Leeds, Leeds, UK, presented on how they expanded their services to photographing personal injury cases for civil cases. Michael Peres explained how a passion for photographing snowflakes turned into a 32-page color children's book. He signed several books for attendees who were anxious to take them home to their children.
Pioneer Lecture by George Lepp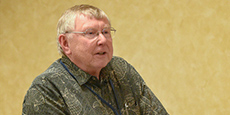 George Lepp, Canon Explore of Light, was an excellent choice for the Anne Shiras Pioneer Lecture. In his educational and inspirational talk, he covered multiple techniques he uses in the field and studio. From focus stacking, to action sequences, to combining specific lens with extension tubes, and screen captures from 4K video; he covered a wide range of techniques. George was the perfect inspirational and educational presenter for signing off on another excellent meeting.
Honors Banquet
The Honors Reception and Banquet were held that evening at the hotel. BCA is proud to have honored 4 members this year.
Connie Johansen was honored with Fellowship. Eighteen BCA Fellows were present to welcome Connie to this group of people who have been honored for distinguished craftsmanship and meritorious contributions.
Gigi Williams and Robin Williams both from Victoria, Australia were honored with Emeritus. Gigi and Robin created a short video in appreciation to BCA for the educational resources and professional support they received throughout their careers.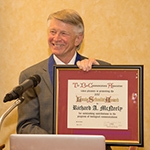 Richard A. McNeely received the Louis Schmidt Award, the highest honor given by BCA. Richard was recognized for his outstanding contributions in videoconferencing and establishing a pilot telemedicine program at the College of Medicine in Tucson. The telemedicine program rapidly grew and today reaches more than 170 sites. Visit the Schmidt Laureates page to learn more.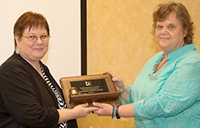 The banquet concluded with the official passing the gavel over to the new president. Connie Johansen, President, handed the gavel to incoming President, Susanne Loomis.
BIOCOMM 2017 was an excellent way to exchange ideas, techniques and strategies that keep our organization vital and growing in many ways.
With sincerest gratitude to all the presenters, Canon Explores of Light, Adam Cooper, Director of Conferences, and the Conference Committee: Connie Johansen, Susanne Loomis, James Koepfler, Ken Meats, Charlene Baron, Karen Hensley and Even Cooper.