BIOCOMM 2019
Asilomar State Beach and Conference Grounds
Pacific Grove, California
June 18-22, 2019

Meeting Highlights
BIOCOMM 2019 – another wonderful meeting in coastal California.
A big thank you to our presenters and attendees from around the world who contributed their time and effort to make BIOCOMM 2019, BCA's 89th Annual Meeting at Asilomar Conference Center in Pacific Grove, California June 18-22, 2019 an outstanding success!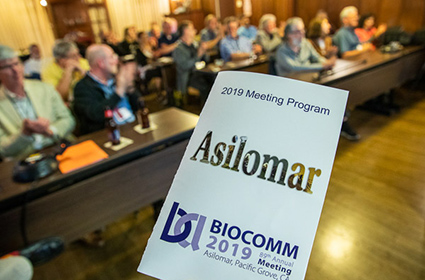 The meeting was exciting and dynamic with workshops, presentations and demonstrations. It provided an opportunity to network with colleagues, discuss technical issues and establish new connections with new members, and old members alike. There were three days of presentations and workshop sessions that brought together a variety of professionals in the fields of visual media in the life sciences.
The four-day meeting kicked off on Tuesday, June 18, 2019 with two distinctly different workshops Using your DSLR or Mirrorless Camera for Video and Photomacrography – Theory and Practice.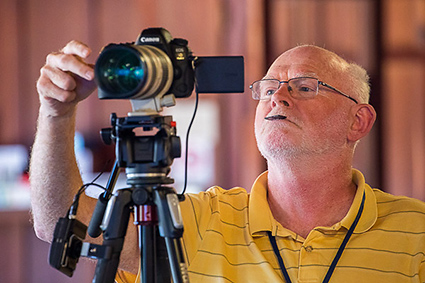 Ken Meats, RBP, FBCA explained the intricacies of using digital cameras, primarily used for recording still images to record professional video. This workshop demonstrated the technical parameters and the additional equipment required to provide a professional outcome.
In Photomacrography – Theory and Practice, Gale Spring, FBPA, Gabriel Unda, FBPA, Jim Wetzel, PhD and Danielle Edwards, FBCA demonstrated a variety of equipment and methods to capture images at higher magnifications between 1x and 40x at the image plane. These magnifications are easily obtained with traditional cameras, lenses and accessories. This workshop started with an introductory lecture and was followed by a demonstration of various pieces of equipment and techniques. Participants had an opportunity to use the equipment and see for themselves how the different equipment functioned. Equipment ranged from automatic to manual functioning, enabling older equipment that may be considered obsolete these days to get a new lease on life.
This workshop provided participants with new ideas and opportunities to use the equipment from a bygone analog era that's lying around in the back of cupboards gathering dust to create current digital images.
Following the afternoon workshops, an evening reception was held for the BioImages 2019 Opening & Awards Ceremony. BioImages is the BCA's annual visual media competition that showcases the finest still, graphics and motion media work in the life sciences and medicine.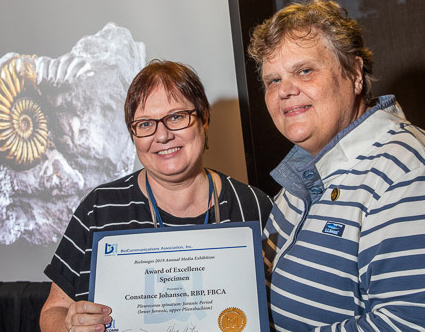 There were 152 entries this year, 79 of which were selected for the salon. A total of 31 awards were given. Best of Show, a BCA Medical Education Award and an Award of Excellence went to Fabian de Kok-Mercado and Laura Bonetta for CRISPR-Cas9: Mechanism & Applications. Congratulations to all 2019 BioImages winners!
This year's BioImages judges were Paul Crompton, FBCA, retired Director of the Media Resources Centre at the University Hospital of Wales in Cardiff, UK; Marie Craig, MS, Co-Founder and Co-Director of Fountain Street Fine Art; Kathleen Wagner, MFA, CMI, retired Associate Director of the Medical Graphics & Photography Department at the MD Anderson Cancer Center in Houston, Texas; and Will Willner, RBP, FBPA, an Adjunct Instructor in Photography in the Art Department at Wake Forest University.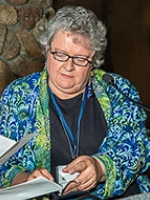 Charlene Baron, FBCA BioImages Chair coordinates this great event. We thank them all for their enormous effort and contribution in keeping BioImages going year after year.
BioImages Chair, Charlene Baron, FBCA hosted the awards reception and what a wonderful evening we had, following the great day of workshops that kickstarted the meeting.
On Wednesday Connie Johansen, FBCA Director of Conferences opened the program by welcoming all the participants and introducing Scott Bourne an Olympus Visionary to deliver The Maria Ikenberg Lindberg Keynote Address, The life of a bald eagle – just because he's an apex predator doesn't mean life is easy.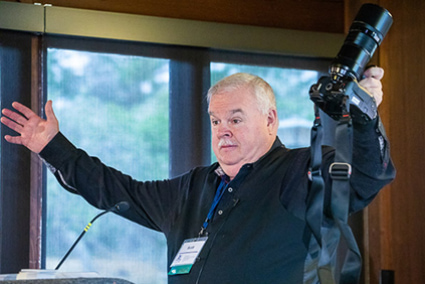 Scott is a professional wildlife photographer who talked about the necessity of knowing bird habitat and bird habits to enable you to take great bird photographs. Scott emphasized being patient along with the long-term study of your subject to anticipate how birds will react.
Scott explained the scientific, technical and the art of capturing extraordinary bird photography. Scott emphasized the fundamental need for an understanding of the dynamics of nature to create the image.
Next on the schedule was David Bishop who gave an interactive workshop on Public Relations photography. David stressed the need to know your equipment, as you need to be ready to take a photograph in a short space of time. He demonstrated how to relax your client and with some clever techniques make the best of your lighting with minimal equipment.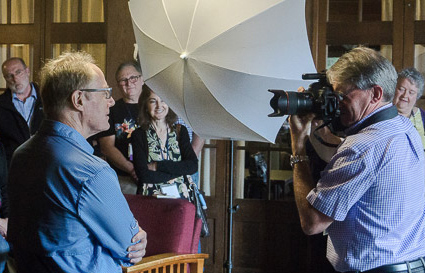 David continued to demonstrate his public relations photographic abilities as he took all the photos throughout the meeting. For which BCA is very grateful. Thank you David for all your efforts.
Following David Bishop we had three science and art themed presentations beginning with Norm Barker, RBP, FBPA who raised and discussed the question can scientific imaging also be viewed as art; and how does this alter the interpretation of the image? A very thought provoking discussion. We then followed up with Charles Hedgcock, RBP, FBCA who presented on 6X6 a scientist and artist collaborative project, exploring the patterns and processes of the Sonoran Desert and Gulf of California. This presentation culminated in a video of a dance performance set among the artwork Charles had created in response to his fellow scientist collaborator. Finally, Danielle Edwards, FBCA presented on using Infrared, a technique often reserved for the scientific arena but in this case being used to create expressive photographs of the natural world. Observations and methodology on the process were discussed.
After a short break we had part one of Bob DiNatale's workshop Processing the Digital Image. This in depth presentation was followed up with part two the following morning. Before the day concluded we finished up with Info Share and Show Us Your Stuff, moderated by Bob Turner, RBP, FBCA. We had so much "stuff" to share this year we broke it into two sessions on different days (Wednesday and Friday).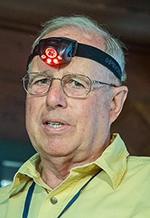 Here are some of the highlights from both sessions. Bob Turner RBP, FBPA showed us a headlamp that uses red LEDs so you could use it at night when photographing without creating disturbance. Bob also demonstrated two types of gloves (wool fingerless; and archers' lightweight gloves with tactile fingers) to consider using in cold weather conditions. Gale Spring, FBPA and Danielle Edwards, FBCA presented the Austin Forest Walk project in which they had a photograph printed large scale to fill a corridor window thus creating a more pleasant environment within the hospital. They discussed the challenges in taking the image and ensuring there was enough resolution to enlarge the image by 300 percent. Among many other things there was a vibrant discussion on how walking sticks can double as monopods. Show Us Your Stuff, and Info Share was indeed eclectic, especially divided between two days. Marie Jones presented images of various mushrooms and concluded with: "Yes, all mushrooms can be eaten, but some only once!"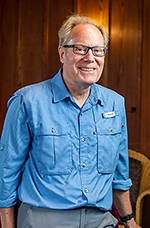 David Bishop showed some of his photos from his hospital, and later, from his lighting workshop. Tom Merrill, FBPA shared his experience with color balance shift after his cataract surgery, this was fascinating and brought to mind the painter Monet and how the colours he painted changed when he had his cataracts removed. Paul Crompton, FBCA showed photographs from his Africa trip and talked about the challenges he faced with his photography.
Charlene Baron, FBCA and Paul Crompton, FBCA talked about BioImages' and the introduction of new judging guidelines. Bob Turner, RBP, FBPA finished up by highlighting to members the wonderful opportunity available to them to submit a Showcase to the Journal of BioCommunication, and Jim Wetzel (BCA's, JBC Editor) offered his willing assistance to anybody needing help with their copy for their showcase or any other article they wished to submit for review and inclusion in the Journal.
On day three we had an early start with Bob Turner, RBP, FBPA and James Hayden, RBP, FBCA taking the group on a guided bird and animal walk. Many fine photographs were taken and everyone knew a lot more about birds by the end of the fresh morning walk. It built up a hearty appetite for the fine Asilomar breakfast.
After breakfast we had part two of Bob DiNatale's workshop The Optimum Exposure. This brought together all the things learned from the previous day, culminating in Bob's methodology from capture through to the processed image.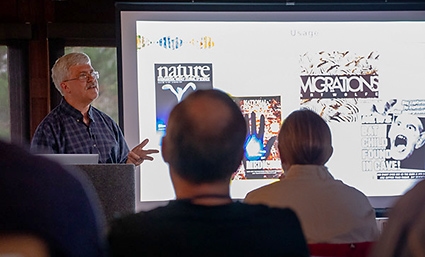 After the break James Hayden presented Ethical Considerations in Scientific Imaging. This was a thought-provoking presentation touching on several contentious misleading examples of photographs currently in the news. We then had Marie Jones who discussed the journey the photographer takes with long-term patients and how photography not only benefits in their treatment, but also in providing evidence of their condition often required for medical insurance.
Lunch was provided for the Business Lunch/Town Hall Meeting. Susanne Loomis, FBCA announced the newly elected incoming officers. The new President is now Adam Cooper, RBP, FBCA, the Vice President is James Hayden, FBCA and the Treasurer is James Koepfler, FBCA. The Town Hall meeting discussed where BIOCOMM 2020 might possibly be held next year. Meeting procedures are being changed to have a more formalized meeting in 2020.
After the business lunch Scott Miles discussed digital asset management, Scott could not stress enough the requirement of multiple back ups and to ensure you don't store them all in one place! We then proceeded to conclude the day with another fun but informative workshop with Marie Jones. Marie showed participants how to take into oral photographs. Workshop participants were also the models; this created a lot of fun as and some very interesting photos.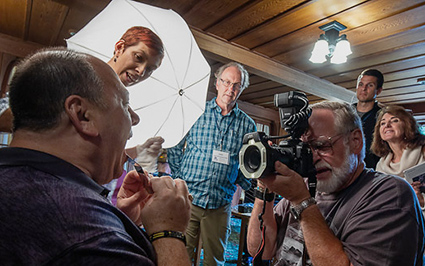 Before dinner we got together for the group photograph. This is always challenging event for the photographer. There is nothing like taking a group photograph of a group of photographers. Every one of them is a director!
Friday our last day of the meeting! We started off Friday with the forensic session. Hoosain Ebrahim, FBCA discussed footwear impressions and how they play a vital role in the forensic documentation evidence chain in solving criminal cases. Next up we had Nazeema Ebrahim. Nazeema gave an impassioned presentation on recurring and violent injuries and how radiology helps contribute to building a case, providing evidence for intervention. Next we followed up with Gale Spring, FBPA with investigations into ultraviolet photographic techniques with fluorescence, reflected and transmitted ultraviolet imaging. To round out the session we had Ted Kinsman present a close up look at marijuana in his new book Cannabis: Marijuana Under the Microscope.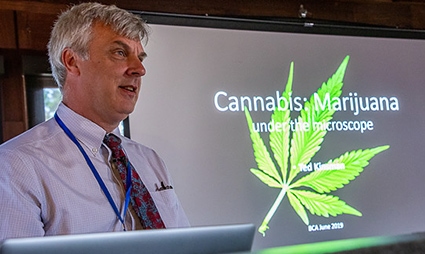 After lunch we concluded with our final presentations of the meeting. Mike Peres, RBP, FBPA gave a brief history presentation on The RIT "Big Shot". This is a photographic undertaking of epic proportions, requiring enormous communication in directing, lighting, etc. beyond your wildest imagination.
Scott Miles delivered the Anne Shiras Pioneer Lecture. The presentation encompassed Scotts personal journey through photography and where it has led him today. He emphasized that we are visual storytellers and how influential that has been in his journey. Scott has a varied history based in scientific and commercial imaging, he is an educator and all of this is linked through his photography. Scott is now working in the pursuit of preservation via photographic methods, ensuring that "one-off events" are recorded for our shared history.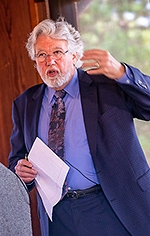 The Honors Banquet and Award Ceremonies were held on Friday evening. After a fine reception and dinner, the Award ceremony began. BCA Fellowship was awarded to James Wetzel, PhD and Julia Serat. Danielle Edwards, FBCA was awarded the Ralph Creer Award. Ted Kinsman, was awarded the 2019 Louis Schmidt Laureate.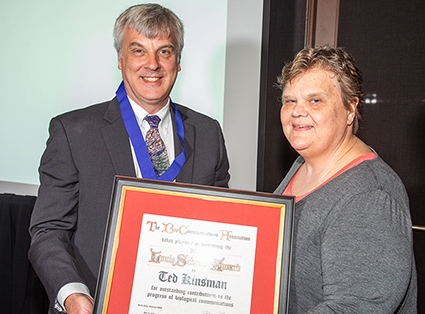 To sum it up, as one attendee commented, "BIOCOMM 2019 was a photographic smorgasbord, full of variety and interest, that left you wanting to go back for more".
Thanks to our Director of Conferences, Connie Johansen, FBCA for creating and providing us with such a dynamic and diverse program. I am sure that we all look forward to next year's meeting wherever that will be. Keep an eye on the BCA website for future information.