Cannabis Leaf Tricomes
© Ted Kinsman
Ted's image received an Award of Excellence in the Electron Micrograph category of the 2018 BioImages.
What was your concept when creating this image?
This SEM image was created for the 2018 release of the book, "Cannabis: Marijuana under the Microscope" (Schiffer press ISBN 0764355058). In the fall of 2017, I had completed what I thought was all the photography for the book. Then a friend suggested I try imaging the cannabis samples under a cryogenic SEM stage. Since I didn't have access to a cryo-SEM, I converted my personal SEM machine into a cryogenic stage; cooled by liquid nitrogen. I spent a few weeks experimenting on how to run samples at very low energies of 1.5 kilo electron volts. Typically, I run the microscope at 25KeV energies, so this was very low energy. After only a few samples, it was clear that the quality was so good, that I would have to reshoot all the SEM images for the book. This was a huge amount of work since my deadline was early July. I ended up spending several late nights shooting and colorizing the images. In the end, I met the deadline, and the book was published on time. The book has a varied audience and is being used in several courses across the country.
Tell us something about the creative process you use when coming up with a solution to a problem/assignment.
In this case, I had to machine a special microscope stage that could supply liquid nitrogen into a high vacuum SEM stage. I went through several different designs before settling on a simple reliable design that could freeze the cannabis samples very quickly. Many people envision my lab filled with cannabis plants all over the place – the truth is that a scanning electron microscope uses incredibly small samples. I typically had samples much smaller than a cubic centimeter in the lab. I also froze numerous seeds and newly sprouted seedlings. Many researchers were interested in donating plant material for imaging on this project.
What technical issues did you have to work out, to create this image?
Besides designing and building a cryogenic stage for the SEM, I had numerous issues with sample preparation. Most problems revolved around sample preparation in a carbon dioxide critical point dryer.
The colorization of the final images took a great deal of time. It was very tedious work colorizing black and white images.
Tell us something about the subject of this image.
As you might expect cannabis is a very hot topic at the moment. When I first put the book together I tried to cover many different aspects of the plant. Once legalized, numerous researchers approached me with fantastic samples of different colored plants, and all sorts of interesting cultivars. Unfortunately, the book had already gone to press. Since legalization, the cannabis industry has continued to expand with higher yield THC concentration in plants as well as numerus advances in cultivation.
What elements are important to you when you judge or critique your work or the work of other professionals?
My background is in science education so I am always looking for an image that draws the viewer in. It might be an interesting demonstration, the appearances of color, or strange geometrical patterns where you would not expect them. I particularly love polarized light and all the interesting things that can be done with it. In the end I really enjoy seeing images of nature that show interesting things.
Tell us something about yourself. What is your imaging background?
I come to imaging from a technical background. I have a degree in optics as well as a degree in physics. The years in college provided some of the coolest demonstrations. After all those years in dark optics labs, I think nothing of spending 3 hours on an optical alignment of a difficult optical system. This is far beyond the point where most photographers would have given up. Recently, I built a light sheet microscope in my home that will be moved to the college for students to use.
Who are some of your favorite image makers?
Although I follow several great photographers on social media, most of my favorites are friends or associates. Image makers like Michael Peres, and Norm Barker, make me a better photographer. They have the creative drive and expertise that I hope to achieve. Additionally, I enjoy being involved in projects that encourage collaboration and networking. I was recently an organizer for the show, "Images from Science 3". It was a great opportunity to work with and learn from some of the great photographers, all experts in their own fields. This show featured some of the best science image makers currently working. The reader should visit https://journals.uic.edu/ojs/index.php/jbc/article/view/10615/9550.
Do you have any advice for people interested in an imaging career in biomedical/life sciences?
Photograph what you care about, and write about the topic so that other people are exposed to your work. I write a number of articles every year, most are dedicated to explaining imaging concepts or how different technical equipment can be built. I recently wrote an article on using long working distance objectives.
Are you a member of BCA and if so how has your membership in the BCA helped you?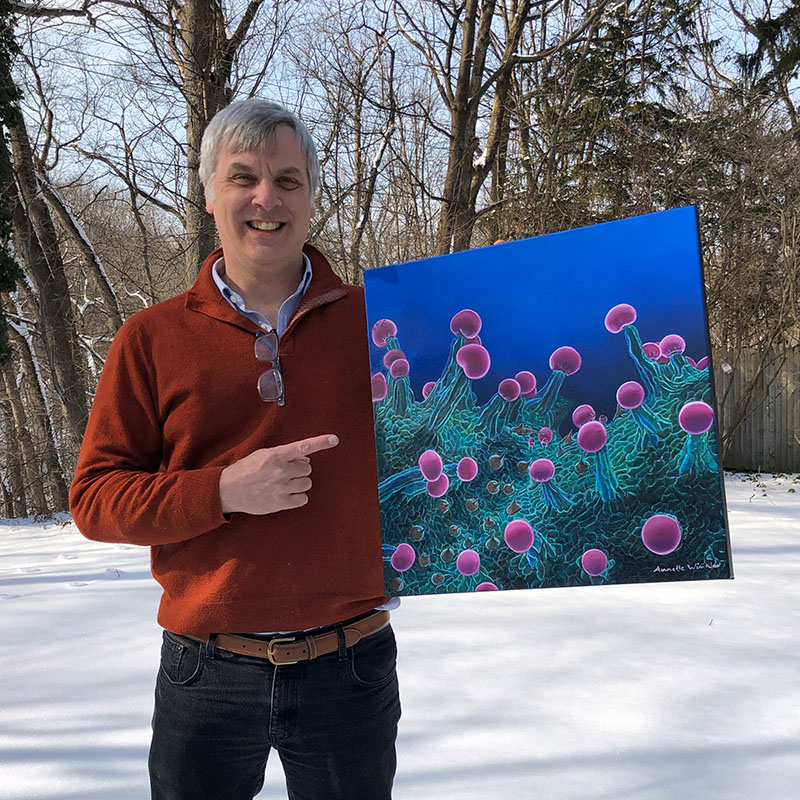 I am a member of the BCA and have been for a number of years. I very much like the professional atmosphere and the open sharing of ideas and techniques. It provides me the opportunity to learn about different areas of photography that I have not been exposed to in my work. I have had several occasions in which I have incorporated these ideas into my class projects.
This is my favorite image from the book because it reminds me of the similarity of looking up a valley with giant trees. I feel it conveys a sense of wonder and a number of people feel the same way. For example, an oil painter from Florida, Annette Winkler, liked the picture so much she has painted several paintings of the image.
Ted Kinsman is a Professor of Photographic Sciences at Rochester Institute of Technology (RIT) where he teaches technical imaging.Ted presented on RTI at the 2022 BCA symposium. Learn more about Ted here: https://www.rit.edu/directory/emkpph-ted-kinsman
See more of Ted's work here: https://tedkinsman.photoshelter.com/index