Ginette (Gigi) F. M. Williams, ASIS FRPS, FBCA, FAIMBI, BAppSc
Ginette (Gigi) F. M. Williams, FRPS, FBCA, FAIMBI, BAppSc is honored with Emeritus Membership for her 30 years of service and contributions in the field of biocommunications.
Get to know our Emeritus Member Gigi Williams
What inspired you to pick up a camera?
I was always interested in photography. My grandfather was a wonderful photographer using a whole-plate Thornton-Pickard camera. My Aunt Elsie was a prominent female photographer in Australia and my Uncle Ray was also a great photographer – he really encouraged me. So I guess it's in the genes.
What drew you to your chosen field of photography?
I very quickly realised that I wanted my photography to have an impact in the world and when it came to study at University I realised I could combine my interest in science with my interest in photography and chose to become a medical photographer. As a medical photographer my images were an important support to medical practice and were used for research, teaching and documenting the patient's progress.
Where did you get your training?
I trained at the Royal Melbourne Institute of Technology and obtained a Bachelor of Applied Science in Photography. Later I also obtained an Advanced Diploma in Management from Swinburne University.
What positions did you hold during your working life?
I started off as an assistant medical photographer at the Royal Melbourne Hospital but after a year was asked to join a brand-new department at the Royal Children's Hospital - the Educational Resource Centre -that for the first time included video and graphic design alongside photography. I had three wonderful decades at this hospital working my way up from a Medical Photographer to the Chief Medical Photographer and then to Director. I grew it from a public sector service with 7 staff to a cost-effective high-quality business with a team of 24 and expanded it to include web development. The department provided its services to The Royal Children's Hospital and the wider community in Australia. I was privileged to work alongside the most talented of people, both in the wider hospital and in my department, and I was proud to see the department recognized nationally and internationally with over 200 awards.
Did you have a mentor?
Absolutely! A brilliant mentor, Dr. Robin Williams FBCA, who at the age of 25 ran the largest medical illustration department in Europe and who I was fortunate enough to meet in 1988 at the Australian Institute of Medical & Biological Illustration's (AIMBI) conference. He encouraged me to further my education, write and present papers and become involved internationally. I went on to gain my Certificate in Medical Photography from the British Institute of Professional Photography (one of the hardest exams I've ever done). I then gained a Fellowship of the Royal Photographic Society (RPS) with a thesis on ultraviolet and infrared photography; a Fellowship of the BPA and a Fellowship of AIMBI (of which I was National President in 1992). More recently I gained my Accredited Senior Imaging Scientist qualification from the RPS together with a further Fellowship. Robin was such a good mentor I had to marry him and he has been my soul-mate and inspiration ever since!
And are there any memories that stand out?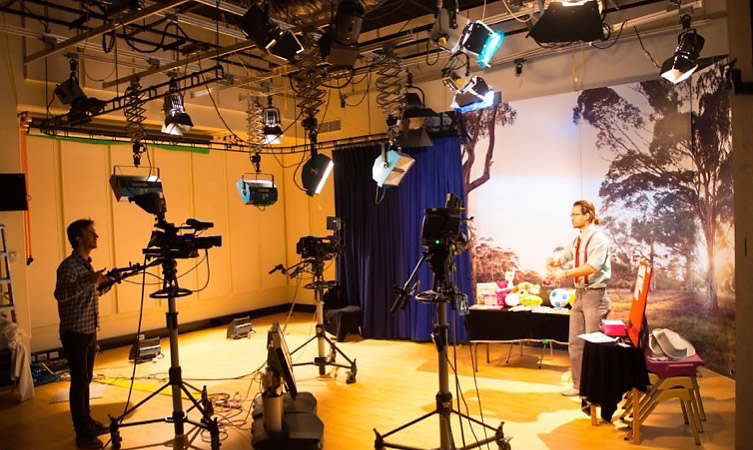 So many memories – from photographing the Prince and Princess of Wales, as well as the Pope shortly afterwards; to photographing the separation of Siamese twins. I worked with an incredible team and I'm particularly proud of a number of initiatives from establishing a photogrammetry service in 1988 that led to a new digital imaging section of the department in 2005 and today is the 3D imaging Centre; setting up the web development service in 1998, which by 2015 saw the RCH site being the most popular Australian hospital website and second internationally only to the Mayo Clinic according to Hitwise/Experian, (the industry measurement body); overseeing a number of live-to-air internal broadcast programs for the patients; managing the implementation of a fully integrated digital medical photography system in 2009; and being involved in designing a new state-of-the-art department for the new hospital in 2011 whilst also managing the redevelopment of the RCH intranet and internet including the new branding. But of all these wonderful memories I think the highlight was being awarded the RCH Chairman's medal in 2004.
How did BPA/BCA influence your career?
I went to my first BPA conference in St. Louis in 1989 and it was mind-blowing. The calibre and number of presentations was truly inspirational as well as being a bit daunting! Americans are so good at giving papers and I was quite terrified to co-deliver mine with Robin on the 'Establishment of a Routine Photogrammetry Service at the RCH', but equally delighted when we received best paper! There were over 350 delegates and I was introduced to the many 'legends' like Jack Vetter, Charlie Hodge, Lou Gibson, Warren Sturgis, Maria Lindberg, Paul Newman, Dan Patton, Tom Hurtgen to name a few, and many became lifelong friends.
When did you join BPA/BCA; and what positions, awards or certifications did you hold?
I joined BPA in 1989. I won two best paper awards – the first one as mentioned above and the second one in 1990 for "Applications of infrared and ultraviolet photography to medicine". In 1991 I received the BCA Lou Gibson Silver Award for excellence in a published paper – "The Development of a Photogrammetry Service at the Royal Children's Hospital, Melbourne" and in 1994 I received the BCA Lou Gibson Gold Award for best published paper – "The Invisible Image - A tutorial on Photography with Invisible Radiation Part 1: Introduction and Reflected Ultraviolet Techniques". I was a member of the World Congress Scientific Committee 1994 and in 1995 received my Fellowship of the BPA. In 2006 an absolute highlight was to be honoured with the Louis Schmidt Award. In 2017 I was awarded the honour of Emeritus status.
Since 2014 I have been recognized in the BioImages competition with more than a dozen awards including one premier award (first place), two awards of excellence (second place), and four awards of distinction, and this year I was privileged to be a Judge.
Please share with us what your retirement has been like.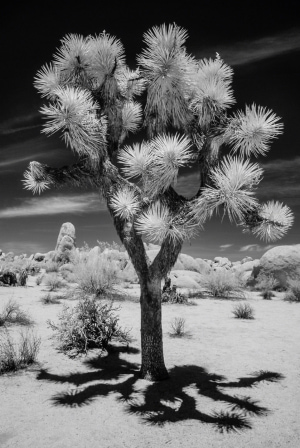 Joshua Tree photographed with infrared. My work using infrared in medicine informed my work in landscape. © Gigi Williams
Retirement isn't quite the word I would use. I 'retired' from the RCH to pursue my personal work and explore my new chosen genre of landscape photography. This has really been a dream come true and has been immensely satisfying and busy! In addition to this activity I am also involved with the RPS, the BCA and AIMBI and have given a number of talks in person and via zoom as well as continuing to write papers for these organisations. I am also privileged to be on the Executive of the RCH Medical Alumni.
Lastly, what advice or wisdom would you impart to anyone wanting to pursue a career in any field of photography today?
I think photography has changed dramatically from the photographer almost being a celebrity in the 50's and 60's (particularly in the fashion world) to having a steady job in the 80's and 90's when I started, to now everyone being a 'photographer'. Today it is so much harder to stand out from the crowd and earn a living. But I would still say if it is your passion 'go for it' because there is nothing more joyful to me than making images. I love not knowing what I will come home with when I venture out on a photographic shoot and enjoy being completely 'in the zone.' Just make sure you can pay your mortgage!