Metadata - Protecting Copyright in Digital Images
Tonya Hines, CMI is the Art Director at the Mayfield Clinic and University of Cincinnati, Department of Neurosurgery. Their medical communications department provides a broad spectrum of services in academic publication, symposia, patient education, Web / social media, and healthcare marketing. Tonya is a Fellow and Past President of the Association of Medical Illustrators (AMI) and a board certified medical illustrator. She currently serves as AMI Liaison to the American Society of Illustrators Partnership and advocates on copyright reform issues for visual artists.


Tonya Hines, CMI
Think of metadata as a digital business card that you embed in the images you create. As your file travels to the client, publisher or the Internet, so does your information. Metadata can be added to image files using the "File Info" panel in any Adobe software (Photoshop, Lightroom, Illustrator, Acrobat). Digital cameras commonly embed metadata about the shutter speed, lens, and flash settings. The IPTC panels have fields about the creator, contact and copyright.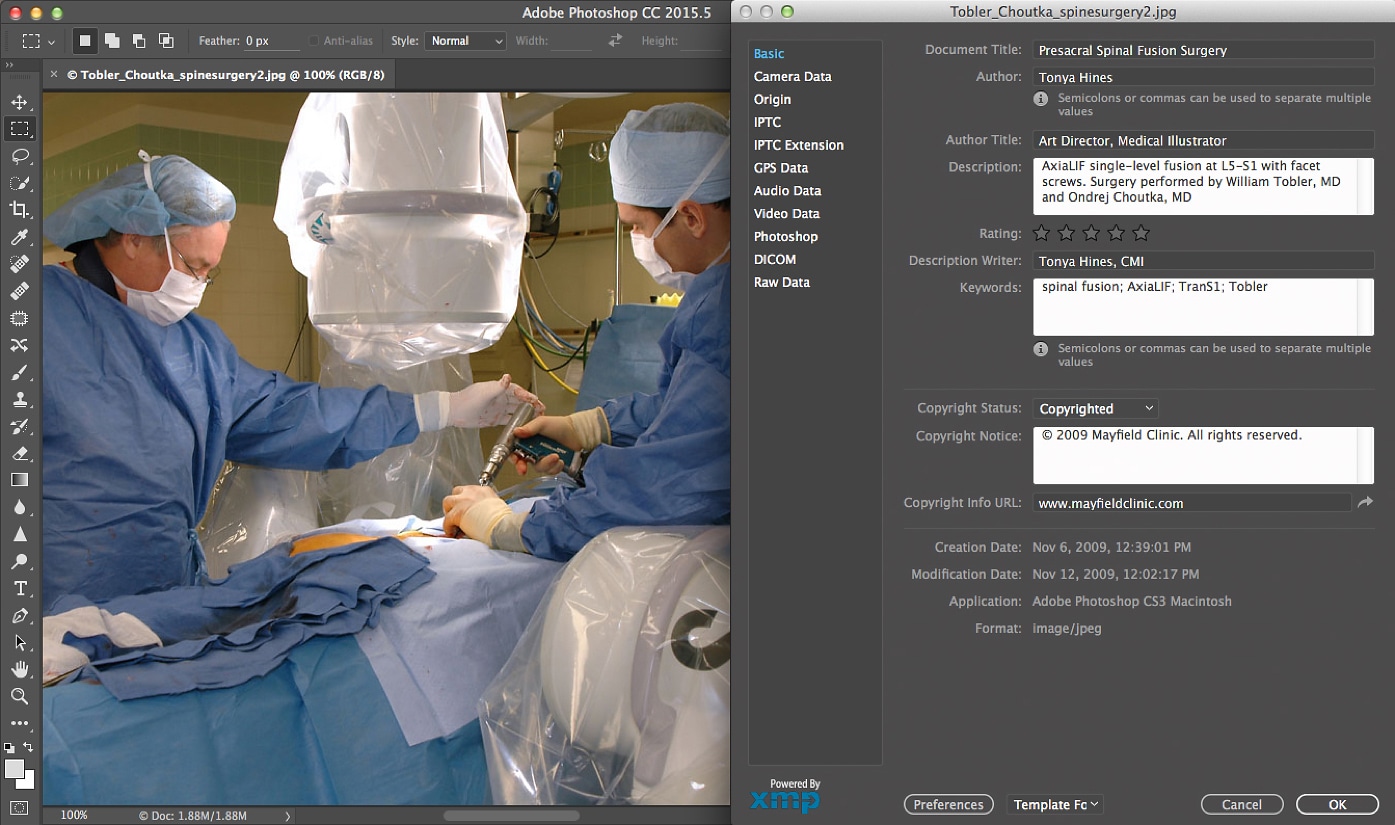 Metadata templates can be created to save time and easily add common information to folders of files using Adobe Bridge or Lightroom. In addition to ownership and contact information, keywords, captions, credit lines and other information can be added to enhance searching, sorting and organizing in Bridge or other digital asset management (DAM) software. Direct writing of metadata using Bridge is efficient and nondestructive — you can add/change the information in a JPEG image without opening and subjecting it to an additional round of compression. This is very useful if you have an older archive of photos that need metadata. Lightroom performs similar functions.
Medical photographers often work with patient diagnostic scans. DICOM (Digital Imaging and Communications in Medicine) files store metadata such as the patient's name, ID, study ID, date of birth, etc. When processing images for outside use (publication, PowerPoint, or web), be sure to anonymize the images when importing into Photoshop. You can also remove protected health information (PHI) from the File Info > DICOM metadata panel. Take extra precautions to ensure your workflow is HIPAA compliant.
Metadata provides limited but important protection against orphaning. Creator-applied metadata is not permanent and can be automatically stripped out by "save for web" functions and by posting on file sharing and social media platforms. It can also be removed and/or replaced by publishers and other end users of images.
The Association of Medical Illustrators (AMI) created step-by-step instructions on embedding metadata and generously shares this guide with BCA colleagues. Download AMI's Metadata Whitepaper.
For additional information, see "Metadata & Licensing" on the AMI website.