Photographing Child Abuse Cases
Stéphane Dedelis is a medical photographer at the CHU Sainte-Justine, an ultra specialised paediatric university hospital located in Quebec, Canada. His 25 years of experience there has given him the opportunity to learn medical, ophthalmic and specimen photography which is used in patient files, publications and teaching. He also worked closely with the socio-judicial department to establish a photographic protocol in the case of abused children.


Stéphane Dedelis
For medical photographers, the most complex and exacting photographs to be taken are those of abused children. Raw emotions, confusion, sadness are inherent in the process. All stakeholders involved in these cases must work together towards a common goal of gathering the necessary evidence to be used in a court of justice. Evidence must be conclusive and irrefutable. Authorization forms and injury documentation forms must be duly completed by the physician or stakeholders involved.
When the patient comes to our studios, we have no knowledge of the nature of the incident involved and no knowledge as to whether or not the accompanying person is involved in the incident. We must remain neutral and document the injuries while concentrating on the quality of the work at hand. Adaptability and versatility are essential qualities.
Following are some tips and techniques for taking photographs of child abuse cases:
A good reflex, high-resolution camera is ideal for these types of shots.
Uniform studio lighting is also important. Studio light intensity should be low to avoid high contrast images.
Where pictures must be taken on site, a good portable flash or ring flash is preferable. When using a portable flash, light should be reflected so as to make it softer.
Use a fixed lens such as a 105 mm lens so no distortions occur, as
opposed to a wide-angle lens, which could distort your angle.
When using an automatic camera or smart phone, you must use the
camera at its maximum resolution and have a suitable white balance.
Where necessary, a UV lamp may be used. This lamp will help you bring into view some injuries that may not be apparent to the naked eye.
We suggest you start with the facial injuries, where the photographs to be taken should be well identified on authorization forms, and to use rulers. From top to bottom and then left to right, always proceed with a global view of the area to be photographed and a close-up of the injuries. It is preferable and important to always include the rulers for each photograph.
You will need to complement the photographs with tools that allow you to measure the injuries. We suggest two different rulers we use ourselves, which can be found on the CSI Crimes Sciences Inc. website.
A neutral ruler with a graduated scale of colours to allow you to see bruises in real time (see figure 1).
The ABFO forensic ruler number 2 for bites. Photographs taken with this ruler are sent to the forensic medical laboratory for expert appraisal (see figure 2).
Figure 1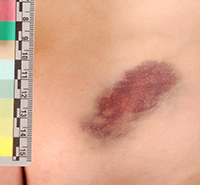 Figure 2
At times, the physician may ask for special photographs. It is important to always identify the object associated with the case that could possibly have caused the injury (see figure 3).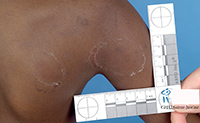 Figure 3

At the end of each session, the files produced are renamed according to the file numbers and dates of photograph; i.e.: 12345678 – 2014-10-31. The hospital logo and file number will appear on each photograph to be placed in the file.
The photographs will be stored on a secured server by our medical photography services. Archive services will review requests for accessing files from the police department, lawyers or the courts.
The severity of cases may vary from one patient to another; however, our ongoing commitment may contribute to making a difference in the lives of these children.