Plancenticeras meeki
© Norman Barker
2011 BioImages Award of Excellence
This photograph is from the shell of a fossilized ammonite, which is hundreds of millions of years old. These ammonites are beautiful and often sought after for jewelry. The iridescent colors are produced by alternating layers of aragonite and conchiolin or the minerals that have replaced them over the millions of years of the fossilization process.
"I photographed the shell with Zeiss Luminar, f4.5 40mm with Nikon D700 and bellows. To show the iridescent colors, axial illumination was used from 2 Lowel egolights almost used like a ring flash. It's very important to have the lights as close to the center axis of the lens as possible so the color of the specimen shows. In addition, I used specialized macro techniques, and the specimen was coated with mineral oil to avoid specular highlights."
"For this type of shooting in the lab I have the advantage of having my camera tethered to my computer so I can look at the image real time. Nonetheless several hours go into setting up a shot like this. Focus is a challenge because of the high magnification and depth of field issues."
"This photo was published in one of my books, Ancient Microworlds, published by Customs and Limited editions, coauthored with Giraud Foster."
Read more about this photographer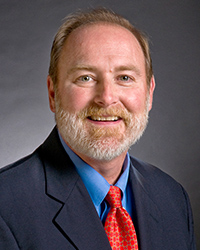 Norman Barker graduated from The Maryland Institute College of Art in 1981 with a Bachelor of Fine Arts in Photography. While he wanted to go on to graduate school right away, he first needed to start earning money, so he took a two-year paid training position at the Johns Hopkins University School of Medicine as a biomedical photographer.
"At the time I didn't even know what a biomedical photographer was; I wanted to be an artist," he said. "It didn't take long to figure out that art was not going to pay the bills."
One of the benefits of the job, said Barker, was that they paid for graduate school in the evening as long as you took courses at Johns Hopkins. Once he completed a Master of Science in Continuing Education, taking as many science courses as he could in the process, he was hired on as a staff member. He is currently an associate professor of Pathology and Art as Applied to Medicine at the Johns Hopkins University School of Medicine, where he specializes in photomicroscopy, macro and natural science photography. He is also director of the university's Pathology Photography and Graphic Arts Laboratory.
Barker also earned certification as a Registered Biological Photographer (RBP) from the BioCommunications Association (formerly the Biological Photographic Association) and a Masters in Publications Design from the University of Baltimore, Yale Gordon School of Liberal Arts.
"To keep current in any field today one needs to be a curious life-long learner, so continuing education is just part of keeping pace with the constantly changing technology," he said. "Most of my work involves the interface between art and science. I feel it's very important to not only communicate the science in the image, but also do it in an artful way."
Over the last 10 years, he has published two books on fossils and exhibited his work all over the world. His photographs are in the permanent collections of more than forty museums, including The Smithsonian, The George Eastman House, The Science Museum in London and The Nelson-Atkins Museum. He is still working on the fossil project and several other projects as well. In Spring of 2013 he has a new book coming out entitled Hidden Beauty: Exploring the Aesthetics of Medical Science, published by Schiffer Books.
Below, Barker shares insight into his specialty of photomicrography and advice for other photographers interested in entering this field.
Why photomicrography as a specialty?
Working in a pathology department there is an incredible amount of documentation of tissue through the microscope. When you look through the microscope it's easy to see how 17th century microscopists like Robert Hooke, were seduced by the microworld that they saw. I felt the same way when I first started using a high-end Zeiss microscope. It opened a whole new world for me.
What do you enjoy most about teaching?
My primary appointment as an Associate Professor at Johns Hopkins School of Medicine is in the Pathology Department, where I work with faculty to help translate their research and science into books or published papers as well as for teaching medical students and residents. My secondary appointment is in the department of Art as Applied to Medicine, which is the oldest program offering an MA in Medical and Biological Illustration. The cool thing about what I do is I get to interact and teach some of the smartest and most creative people in the world. The amount of energy, commitment and enthusiasm the graduate students have is infectious. They are all incredible over-achievers and it really shows in their work.
What type of cameras do you shoot with?
Our department got into computer graphics and digital imaging very early, around 1982. It's incredible to see how much change has occurred in such a short amount of time. A majority of what we shot was on 4x5 or 5x7 film or Hasselblad for location. Being a large medical school we also shot literally millions of 35 mm copy slides for lectures; with PowerPoint, that's all gone. I must admit, even though I love digital I still miss looking at beautiful Kodachrome 25 transparencies, or large format chromes.
My microscope camera is a Prog-Res C14 which delivers beautiful hi-res images and for just about everything else we use full frame chip Nikons for all the documentation and location work.
What is your favorite piece of equipment or photography accessory? Why?
Wow… that's a very difficult question because we do so many different types of photography. Besides all the scientific we do a lot of corporate type work, portraiture, architecture, location, events and check presentations as well as video.
In my microscopy lab for macro work, I use a series of Zeiss Luminar Lens in 25mm, 40mm, and 63mm. These lenses have an RMS thread and can be used on the microscope as well as a regular camera with bellows or extension tubes. They are incredibly sharp! Unfortunately they are no longer made.
Describe your typical workday.
Being in the Pathology Department that services the entire medical school, I do a large amount of macro and photomicrography as well as very special lighting techniques such as darkfield and fluorescence. We use Nikon and Fuji cameras with a wide variety of lenses and specialized macro equipment. A large majority of what we do is published in textbooks or journals, so often times the image winds up being column width size, at most full cover size.
I'm sure photographers can relate when I say I would love to spend more time shooting than working on the computer, but that's not a reality. I'm usually shooting at my Zeiss microscope three to four hours a day and then fitting in whatever studio, or location assignment comes along that day. Also dealing with the budgets, billing and ordering of supplies can be very time consuming.
In the age of FedEx, faxes, and e-mail, clients are more demanding. Being from Johns Hopkins, one of the top medical institutions in the world, I always stress quality. Our visuals are seen all over the world in print or at meetings. Our images have to be first rate, the best. I'm always fighting the 'that's good enough' mentality that some of our busy clients have.
Do you have any advice for photographers interested in a career in medical photography?
There are a couple of excellent schools out there, like Brooks Institute or Rochester Institute of Technology. There are also several really fine BFA programs but they concentrate on fine art and not business, and certainly not science. This job requires a bachelor's degree and many individuals have graduate degrees and many department directors have PhD's.
The other thing is, it's not like the old days (10 years ago) where you could just do photography; now the demands are much greater. With the advent of all this computer technology, anybody who can click a mouse or press a shutter button thinks they're a photographer or a designer. Just like our medical doctors spend years in training for their specialties, biomedical/scientific photography skills take many years of training and practice. You need to have solid computer skills as well as good design and graphic skills and be a top-notch shooter. To be successful, this field requires wearing many different hats.
I think to stand out in this industry you need to be very technically competent as well as have excellent photography and design skills. Many of our clients are coming to us as the subject matter specialist in imaging. Most M.D.'s or PhD's are pretty sophisticated when it comes to imaging so you need to try to stay a couple of steps ahead of your clients, which in our business is a constant challenge. Keeping up with continuing education is also very important. If you're not learning something new all the time you become stagnant in this fast changing field. Part of how I evaluate my staff is by identifying what new technologies they have learned and how they have transferred that knowledge to make them more productive to help our clients.
As in any job, some of what we do is routine, but if that routine work is some part of your business, you can't afford to become complacent. It may be routine for you, but it provides a valuable service for your client. We are always looking for ways to improve on the routine so service gets better. My old boss had a sign in his office that read, 'If you think you're too big for the little jobs, you're probably too small for the large jobs.' Keeping our clients coming back is priority one. We are all about servicing the medical institution. Johns Hopkins is the largest receiver of NIH (National Institutes of Health) grant money and the quality of images that we provide to our customer base is responsible in part for helping these top quality grants get funding.