Red Device
© Mary Spano
2007 BioImages Award of Excellence
This photo of a RED (rigid external distraction) device case used in a Lefort III mid-face advancement surgery procedure was taken by Mary Spano shortly after she started work as a medical photographer.
"I didn't have much time to take the photo. I waited until after the procedure was complete, the patient was cleaned up, and they were preparing to move him to the recovery room. I had the nurses dim the room lights and turn the operating field light on the patient. I then spot metered so that the light would fall off quickly in the background and took the photo with my Nikon D200 Nikkor 35-70 camera."
"The photo was not taken to serve any particular purpose at the time, but I consider it very artistic, and it has been exhibited at NYU with several others illustrating the work of the Institute of Reconstructive Plastic Surgery."
Read more about this photographer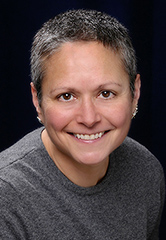 Mary Spano's formal training is in Radiologic Technology. She started her career working as a Radiologic Technologist to get her photography career off the ground. She owned a successful commercial photo lab and studio for 14 years until 2003 when the digital age exploded.
"In early 2003, I closed my lab and briefly went back into radiology at NYU Langone Medical Center, where I found a posting for a Medical Photographer in the Department of Plastic Surgery," she said. "I applied and have been working as a Medical Photographer for the past six years."
Below, Spano shares insight into her specialty of medical portrait photography, and advice for other photographers interested in entering this field.
Describe your typical workday.
A typical day in the reconstructive plastic surgery department involves many photographic disciplines. In the studio I take pre/post-op photos of patients, as well as staff portraits and family portraits of our patients. We also have a 3DMD imaging system in the studio. I take location photos during our patient conferences, where our patients are evaluated by a team for surgical treatment planning. On occasion I am called to the OR to document new surgical procedures. When I am not shooting I am editing and posting patient photos to their electronic chart, and reviewing location photos for use on the department website, in publication and presentation by our physicians and staff.
What is the most used computer-editing tool in your workflow?
Adobe Photoshop.
What elements are important to you when you judge or critique your work or the work of other professional photographers?
Exposure, Composition, and Impact.
Do you have any advice for photographers interested in a career in medical photography?
There are many different areas of biomedical photography, I would suggest that if you are considering a career in medical photography that you find someone in your area that is working in a part of the field that interests you and explore the possibilities of an internship. I found that in my particular part of the field a degree in biomedical photography was not a necessity.