5 Year Old Osteochondroma Left Scapula
© James Koepfler
2006 BioImages Best of Show
This photo is of a five-year-old patient with an osteochondroma (a benign tumor that develops during adolescence) on his left scapula, taken by James Koepfler at Boston Children's Hospital at the request of a physician.
"After introducing myself and explaining the importance of these photos, I whisked the patient off to my studio, which is on the same floor as the clinic. I photograph quickly so as not to hold up the patient's visit or the doctor's exam. I used an Olympus E-10, my first digital camera. It had a non-removable lens, which for this photo, was set at 20mm. Exposure was 125th at f11. I used studio strobe lighting (2 lights), which is fairly routine and consistent for this type of photo. The room is small enough that the exposure is constant regardless of where you are photographing. This photo was one in a series of six photographs I took during the session. While I am told what to photograph, I am never told how to photograph or how many photos to take. That means it's up to me to convey with my photographs, what the doctor sees, anyway I can."
Read more about this photographer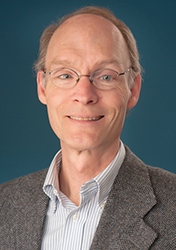 James Koepfler's schooling was in fine art and commercial photography. "While I was researching a career in photojournalism, I stumbled upon the field of medical photography, and having an interest in medicine, I was immediately hooked," he said. Through the BCA (then known as BPA) he attended workshops and started building a portfolio of medically related work. "Fortunately, I was hired as a medical photographer by people who saw my potential rather than my limited medical photography background. That was followed by years of on the job training, something that continues to this day. You can never stop learning."
Below, Koepfler shares insight into his work in clinical and surgical photography and advice for other photographers interested in entering this field.
Describe your typical workday.
It's difficult to plan my days as I am basically 'on call' for photography. Only a small percentage of patients I photograph are scheduled beforehand. In between being paged to one place or another, I may prepare images for publication, assist our web writer with graphic design, troubleshoot computer issues, and initiate web conferences.
What is the most used computer-editing tool in your workflow?
Adobe Photoshop Lightroom. I would be lost without it!
What elements are important to you when you judge or critique your work or the work of other professional photographers?
First, does the photograph meet its intended need? Second, is it a 'quality' photograph, in terms of proper exposure, lighting, etc.?
Do you have any advice for photographers interested in a career in biomedical/life sciences photography?
Have a strong 'nuts & bolts' photography background. Be willing to adapt to the ever-changing technology. Enjoy Medicine. Be curious.