Mitosis
© Allison Bruce
Allison Bruce's image Mitosis won the BioImages 2022 Best in Show and the Premier Award in the Natural Science Illustration category.
One of the main characteristics defining cancer is the presence of abnormal cells dividing without control, a major focus of cancer research. This image illustrates several stages of cell division or mitosis, a process of nuclear division in eukaryotic cells that occurs when a parent cell divides to produce two identical daughter cells. The stages illustrated here include interphase, prophase, metaphase, anaphase, and telophase.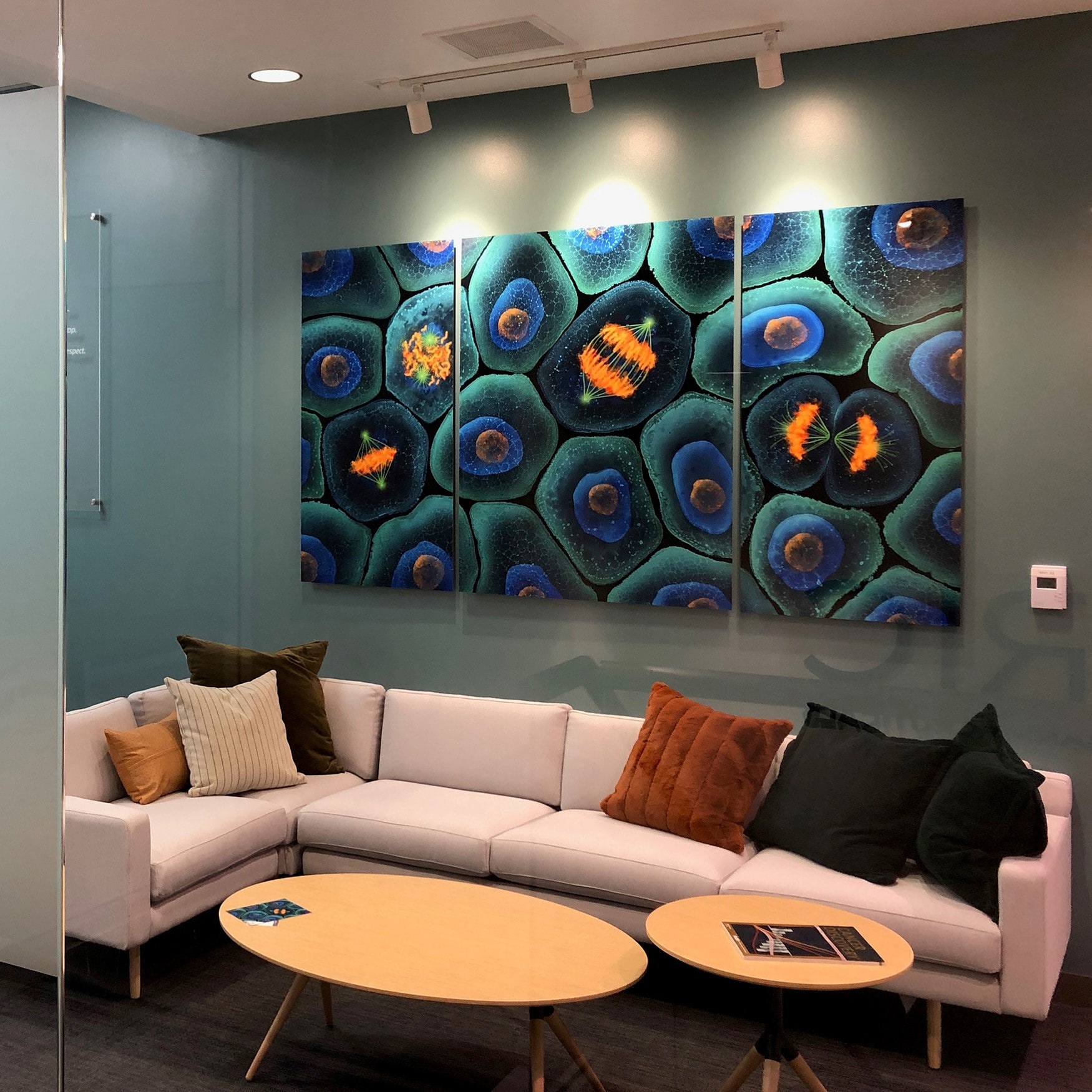 Mitosis was commissioned by a client to be hung in their newly re-designed corporate lobby. The company's vision is focused on discovery and development of therapies that address cancer resistance, and because one of the defining characteristics of cancer is the presence of abnormal cells dividing without control, they were interested in something that depicted cell division, specifically mitosis.
I have worked for many years as a scientific illustrator working with researchers on presentation graphics and publication figures for their manuscripts, as well as journal cover illustrations, but this was the first time I have been asked to create anything like this at this scale.
My client and I began by looking at several images of mitosis created by fluorescence microscopy and other imaging methods - they were beautiful. My creative process was then to look at many different types of art for inspiration as to a style that may work. There are so many artists that influence me! Joan Miró, Helen Frankenthaler, David Goodsell, Nigel Sussman, Santiago Ramón y Cajal and many others. Even everyday things such as fireworks, bubbles, or patterns in tree branches can spark an idea for me. In this case, the vivid colors and detail of fluorescence microscopy were my strongest influence.
For color palettes, I love to look to nature to try and push myself to find combinations that I may not immediately put together. I will google photos of tropical fish, flowers, or even fruit to see the amazing color mixtures that occur naturally. I was lucky here though, the company's corporate brand colors were teals and oranges which worked beautifully together to create a deep, rich background with bright, vivid pops of color to guide the eye through the image.
I also wanted the image to be built on a hand drawn or painted base to impart the organic feel that I saw in the fluorescence microscopy and to add an element of serendipity that I can't achieve using purely digital means. I used alcohol inks on a large transparency sheet to paint the cells and nuclei and scanned them at high resolution. I then colorized, shaded, and added final details using Photoshop and Illustrator.
I'm glad I became a member of BCA last year, there are so many incredible image makers to inspire me going forward. I have gained a lot of confidence and pride after working on this project and sharing the final result.
Some of the steps in the image creation process from outline sketch, to base painting, to final.