Geoff Thompson
Collection Imager
Queensland Museum
Australia
Bio
Geoff Thompson has been drawing or photographing small creatures most of his life. He learned scientific insect illustration "on the job" in 1975, as a research assistant at University of Queensland. He has worked at Queensland Museum for 40 years, 30 years in entomology and since 2012, as a collection imager. His illustrations and photographs have appeared in many books, journals, posters, displays and websites. In 2018 a selection of his photographs was printed up to three-metres across for the Queensland Museum and some were projected on the William Jolly Bridge, Brisbane Australia.
Geoff won a 2005 Queensland-Smithsonian Fellowship to study digital illustration and imaging systems; spending 15 weeks mostly at the Systematic Entomology Laboratories, USDA, within the Smithsonian's National Museum of Natural History, Washington DC.
He served as president of the Entomological Society of Queensland in 2012 and was Chair of the Organising Committee of the Guild of Natural Science Illustrators' Annual Conference and Exhibit, Brisbane, 2019. This was only their second conference outside the USA in 51 years.
In 2015 Geoff was awarded a highly commended in the Eureka Science Photography Award. He has won several Australian Institute of Medical and Biological Illustration (AIMBI) Awards, including two gold awards and best overall entry at their conference in 2018.
Since 2016 Geoff has collaborated with artist Maria Fernanda Cardoso on three major projects, photographing peacock spiders.
Web
https://www.facebook.com/qldmuseum/videos/daintree-rainforest/328769508557775/
https://www.qm.qld.gov.au/Explore/Find+out+about/Behind+the+Scenes/Scientific+illustrations
https://artsandculture.google.com/asset/a-jewel-butterfly/qwGiQmZXgFNZ7Q
https://blog.qm.qld.gov.au/2020/05/27/garden-insect-photography-with-collection-imager-geoff-thompson/
I Can See Clearly Now! – A Decade of Focus Stacking Advances
Abstract
For the past decade Geoff has used a camera-based, flash illuminated, focus stacking system, to image small specimens and objects at Queensland Museum. During that time, quality and maximum magnifications have constantly improved. Use of Mitutoyo objectives, through a lens or microscope attached directly to a mounted camera, that moves in precise steps when required, has produced a quantum leap in image quality. Other advances include better motor control of step sizes, more powerful computers for image processing, improved use of computer power by imaging programs, and the development of A.I. image-editing tools. These factors have combined to make it possible to provide high-quality, focus-stacked images of tiny specimens to researchers worldwide, instead of having to loan precious type specimens, as was previously necessary.
Geoff's digital illustration skills are used to digitally clean up specimens and remove pins etc. making images much more useful for displays and popular publications. These skills, as well as image quality and willingness to innovate have led to collaborations with artists, most notably with Maria Fernanda Cardoso on her peacock spider projects. Images produced at Queensland Museum were further edited by the artist and her team. In 2018 two large prints were sold jointly to London's Tate Gallery and Sydney's Museum of Contemporary Art. In September 2021, five large prints were offered for sale by Sicardi-Ayers-Bacino Gallery, at New York's prestigious Armoury show.
Photos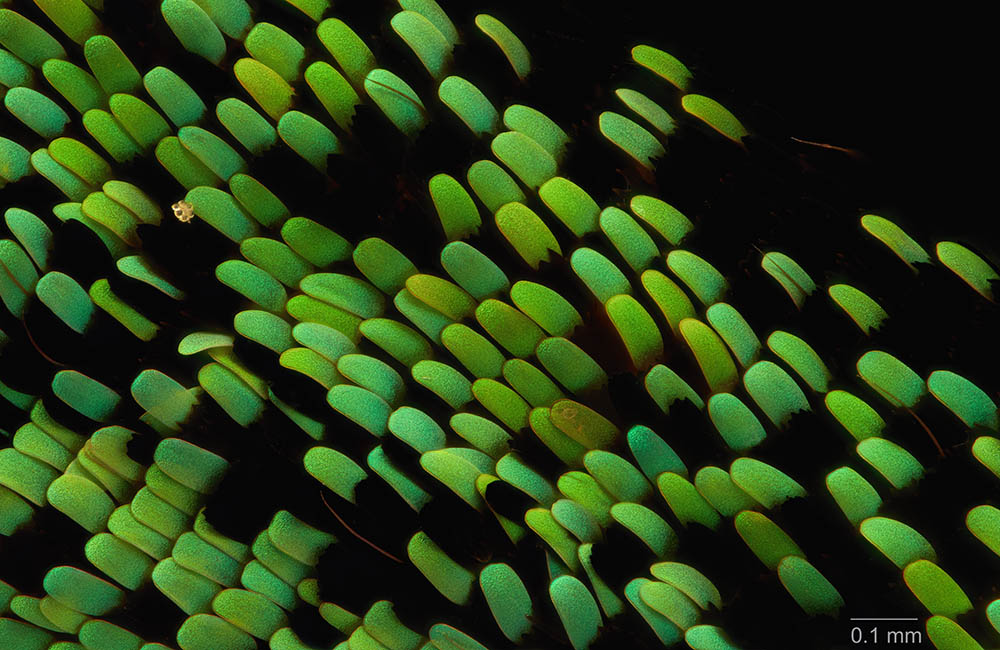 Dorsal view of scales on the forewing, of a male Richmond Birdwing Butterfly, Ornithoptera richmondia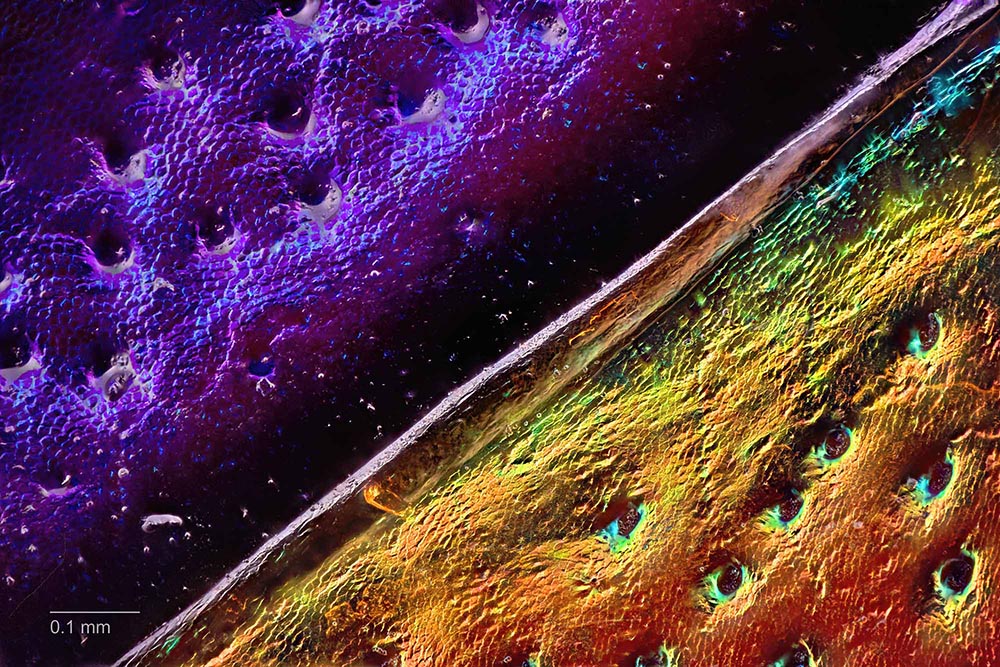 Detail of a shield bug, Calliphara regalis