Always something to take away from BCA!
Hot Pokers © Danielle Edwards - 2023
Taken with an IR converted Nikon Z5 and the Nikon Z 100-400mm zoom lens
In preparation to travel from Australia to Santa Fe, New Mexico and the 2023 BIOCOMM, Danielle Edwards and I purchased a Nikon Z5 mirrorless camera with the intent to convert it to a dedicated infrared camera. Not having the time to test new Z-mount lenses for IR compatibility, we purchased the Nikon FTZ lens adapter so we could use our F-mount lenses that had proven to work well in infrared. Prior to leaving Australia we had the camera professionally converted to IR. We tested it with our existing F-mount lenses and started our journey to the US. The US is a big place and, surely, we could find a camera store to go into and test a wide variety of Nikon Z-mount lenses.
Travelling mostly in the outback, nether-regions of the US, the only store that had a very small variety of Nikon Z-mount lenses was a Best Buy in Oklahoma City. After testing a few lenses, we decided our old lens performed better than the small selection we could test. So, with a limited number of tests performed, on we went to Santa Fe and BIOCOMM!
At BIOCOMM, we finally got to meet Tom Vadnais in person, a recent new member of BCA and a well-known forensic photographer and teacher. Previously, we only knew Tom via Zoom and emails. Tom and I had presented technical talks at the on-line Forensic Photography Symposium in 2022. Later in the year Tom was an invited speaker at the BCA 2022 International Symposium on Biomedical and Scientific Photography.
Discussing our lens dilemma, Tom reached into his camera bag and revealed the Nikon Z 100-400 zoom lens – a lens we had not tested. He offered it to Danielle to test. With only a few tests, it was evident it was a superb IR lens at all focal lengths. Tom confirmed that it was excellent for general photography as well.
On our return to Australia, I immediately ordered the lens from Nikon Australia. BIOCOMM is always a great place to meet old and new friends and colleagues – a great place to share and learn. Tom Vadnais' generosity of loaning Danielle his lens to test cost me a couple of $k's, but Tom, you are forgiven!
Gale Spring, FBPA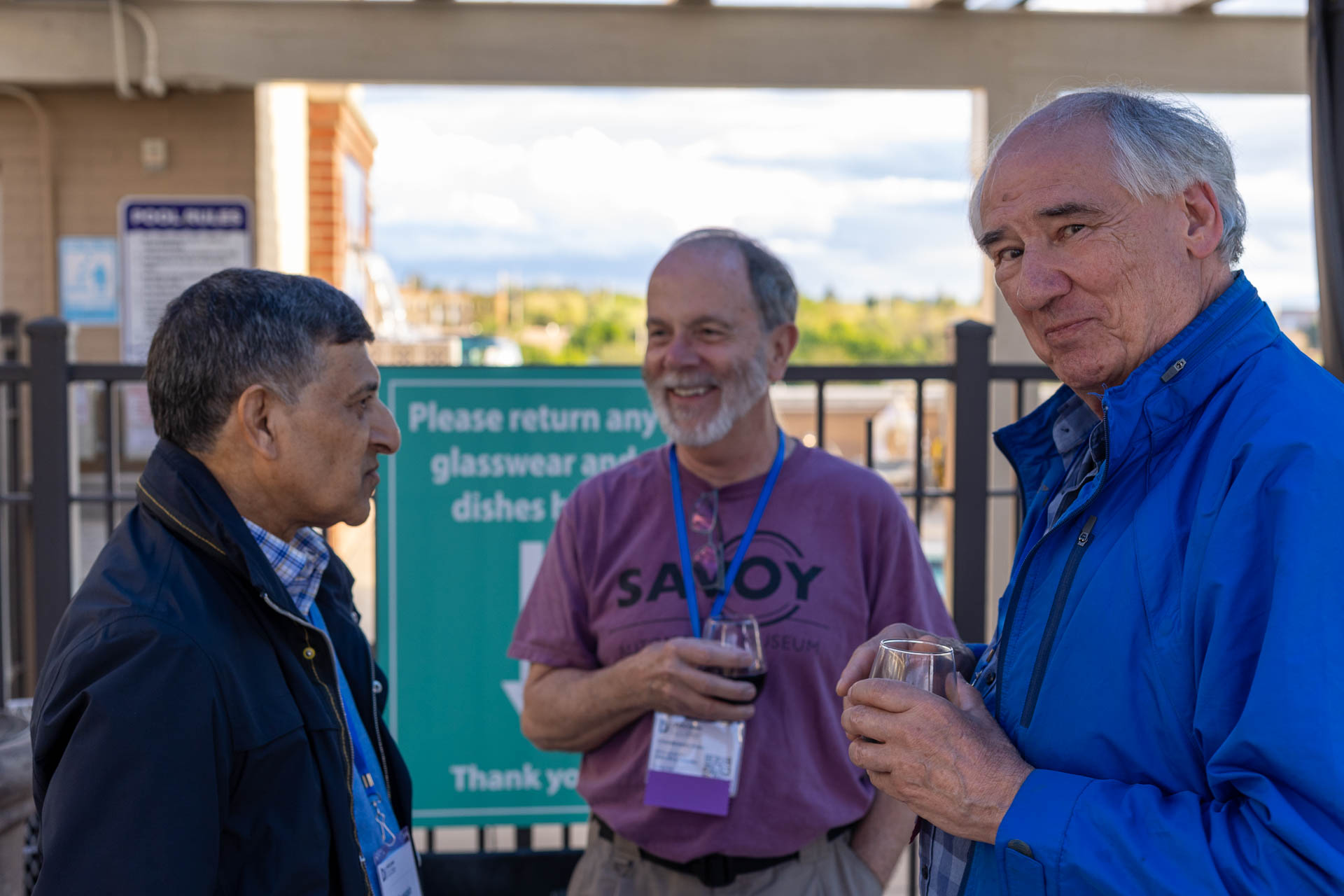 Hoosain Ebrahim, Tom Vadnais and Gale Spring mingling at the BIOCOMM 2023 opening reception.
Gale Spring is the BCA Vice President click here to contact him. Gale was the Anne Shiras Pioneer lecturer at BIOCOMM 2023, and is an adjunct Professor of Scientific Photography at RMIT University in Melbourne, Australia. You can see some of Gale's tutorials on the BCA Youtube channel.